-->
Photo Gallery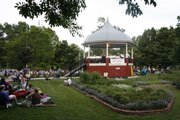 City services under scrutiny for budget cuts
Take part
The budget proposals will be discussed at tonight's City Commission meeting, which begins at 6:35 p.m. at City Hall, 6 E. Sixth St.
Birds would likely be euthanized, programs for at-risk youths would be trimmed, and staples of the Lawrence community would be eliminated or scaled back under proposals by the city's top administrator.
Lawrence City Manager David Corliss and his staff have identified $1.1 million in recommended cuts to the 2009 city budget that would take effect in July.
Among the proposals: closing Prairie Park Nature Center and South Park Wading Pool; significantly reducing funding to area social service agencies; and eliminating city funding for school crossing guards, City Band concerts and bicycle helmet giveaways to children.
"These cuts are real. This is not imaginary. This isn't just all paperwork," Corliss said.
The potential cuts come as the city prepares to deal with Gov. Kathleen Sebelius' state budget proposal. Under her plan, local governments would forgo their share of a 10 percent excise tax that's placed on liquor sales, Corliss said.
Now, Corliss said, the state returns 70 percent of the tax from purchases made in Lawrence to the city.
"We're on it like ugly on alligator," said Corliss, who wants to be prepared if the proposal passes in the Legislature and the city is forced to reduce spending.
A third of the money the city receives from the state goes into a special fund, much of which is used to fund social service agencies. A third of the money goes into a special recreation fund, and the rest goes into the general budget.
Without the special alcohol fund, many social service agencies would see significant funding reductions from the city. Corliss has also recommended a 32 percent across-the-board reduction for agencies that receive money from the general fund.
"You can't lose those kinds of dollars for 2009 and not have an impact," said Janet Murphy, executive director of the Boys and Girls Club of Lawrence, which would lose $95,991 under the proposed recommendations. "I am certainly concerned about the reality of this, as it impacts the kids who need us the very most."
The agency gives children a safe place to go after school, and 65 percent of the children's families are low-income. Murphy said some of the agency's eight locations would likely be closed if funding were reduced.
Under Corliss' plan, some city employees would lose their jobs; the city's pools and recreation centers would have reduced hours; and less money would be spent on beautifying downtown Lawrence.
The lengthy list of potential cuts isn't sitting well with some in the community.
"People are upset that it's happening, but also upset that they didn't realize that it was even an option," said Rachel Myslivy, a resident who is encouraging people to attend tonight's City Commission meeting, where the cuts will be discussed. The meeting begins at 6:35 p.m. at City Hall, Sixth and Massachusetts streets.
Myslivy said she's most miffed about city staff's recommendation to shut the doors of Prairie Park Nature Center, 2730 Harper St.
"It's the only place in the community you can go for free to experience nature," she said. "It's really important to have that opportunity for environmental education."
Closing the center would have dramatic consequences, said Marty Birrell, the city employee who oversees the operation.
"There will be a lot of opposition to this choice," she said.
The center hosts 400 programs every year for schools and community organizations, and it serves as a nature resource for the community.
She said new homes would have to be found for all the birds housed at the facility. But two of them are too old and would probably have to be killed because it would be difficult to place them.
Corliss has also identified additional areas where cuts could be made, though the city is not recommending them. Those include eliminating wage increases for many city employees, eliminating additional staff positions and reducing the amount of money spent on street maintenance.
City commissioners will have the final say on where any cuts would be made. They won't have the ability to increase property taxes in the middle of the year to cover the potential loss in revenue.
Copyright 2018 The Lawrence Journal-World. All rights reserved. This material may not be published, broadcast, rewritten or redistributed. We strive to uphold our values for every story published.