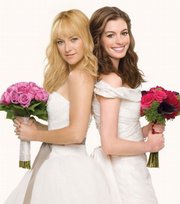 On the street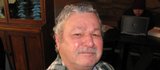 I like chick flicks because my wife likes them, and I have to like what she likes.
Like "tearjerker" and "adult movie," "chick flick" is a cinematic term that few people respect but most everyone understands.
Is there really such a thing as a true chick flick? Tyler Plunkett, who works at Hollywood Theaters Southwind Twelve, 3433 Iowa, is pretty sure he found one earlier this year.
"When 'Sex and the City' was here, you'd see a whole bunch of chicks come in," Plunkett says. "I'd go in there to check out the movie, and there were maybe four or five guys total. They were either asleep, or they were getting some action. I wonder how many of them actually enjoyed the movie."
Some movies certainly seem to fit that chick flick definition: "Terms of Endearment," "The Notebook," "Sleepless in Seattle," "Steel Magnolias," the current "Bride Wars" and anything pairing Kate Hudson and Matthew McConaughey.
Generally, plots veer toward women longing to find intimate relationships. The pictures rarely dabble in actual feminism, rather preferring more of a buddy approach to their female target audience.
However, studios have been less willing lately to market a project as an outright chick flick. Recent stats by the Motion Picture Association of America reveal ticket sales to women ages 18 to 34 have declined since a 2004 peak. Sales to men of the same age have stayed the same.
"I have always hated the term 'chick flick' and continue to be astonished that women, in particular, use it," says John Tibbetts, a Kansas University associate professor in theater and film. "It seems to me a demeaning expression that limits our view of what most of these films are really about. The best of them are rarely about only women and almost never about 'chicks' in the most superficial sense. To me that term connotes airheads, like 'hunky' does for men."
Give-and-take
At a recent weeknight at Southwind, filmgoers offered their take on chick flicks.
"A big part of a relationship is you've got to compromise," says Larry Beason.
His girlfriend, Janice Boline, had recently taken Beason to see several movies that would fall under the chick flick umbrella, including "Sex and the City."
But Beason says he doesn't "really consider that a chick flick" in the true sense.
"It's gotta be real cheesy, you know what I'm saying? The chicks from 'Sex and the City' are hardcore. They're like dudes. It's gotta be the typical movie where they're falling in love with the best friend. They grew up together, and as soon as he meets someone else, she's falling in love with him," he explains.
On this particular night, it was Beason's turn to pick the movie. So the Lawrence couple was out seeing the action-horror flick "Underworld 3: Rise of the Lycans."
Compromise.
Boline asks, "If a chick wants you to go, does that make it a chick flick?"
'Guy-cry'
There is no definitive source as to when and where the term chick flick was first used. But most agree it came into the vernacular during the 1980s.
That's hardly where the genre began, though. Prior to that, "women's pictures" of the 1930s and '40s and the Douglas Sirk melodramas of the '50s could arguably be categorized as chick flicks — albeit ones grounded in their respective decades.
But for some reason — perhaps it was the Bette Midler drama "Beaches" — the label began to flourish. By the time "Steel Magnolias" came out in 1989, the female empowering, sassy-mouthed, romance-driven formula had grown commonplace.
There's still debate whether the phrase has a male counterpart. "Guy-cry" has been used to denote movies that strive for that emotional response. (In 2005, Entertainment Weekly named "The Shawshank Redemption" the top guy-cry film.)
"I always joke that sports movies — especially if there is an element of father-son bonding — are chick movies for guys," says Loey Lockerby, film critic at the Kansas City Star, who thinks many "chick flicks" insult women with "lazy writing and dumb stereotypes."
"They push the same emotional buttons, using cultural touchstones that men are more likely to identify with. Think 'Field of Dreams,' 'The Rookie,' 'Hoosiers,' etc."
Tibbetts isn't so sure about the testosterone-oriented movie concept. He says maybe a movie such as "The Notebook" or "Sex and the City" best fits into that class.
"We guys are ever curious, fascinated, watchful and eager to learn, aren't we?" he asks. "And what better way to indulge those male traits than going to see chick flicks?"
Copyright 2018 The Lawrence Journal-World. All rights reserved. This material may not be published, broadcast, rewritten or redistributed. We strive to uphold our values for every story published.