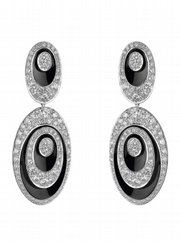 Although 2009 is going full throttle, don't turn your back on 2008 quite yet — and never, ever turn your back on anything Armani Prive Couture.
Dressy, art-deco apparel from Spring 2008 collections are still stylish and inspiring: Chanel's line utilized mass amounts of shiny sequins and detailed, beaded fans; Armani's own line featured decadent belt buckles and broach-like center pieces attached to structured, geometrically constructed dresses — dresses that challenge the Chrysler Building itself for its well-known position as Art Deco King.
This fabulous, prosperous Art Deco period lasted nearly 35 years, spanning four decades from 1911 to 1946. As waistlines moved from below the bust to just at the hips, Chanel rose to top trendsetter; crazy seam lines, embellished draping, gauze, beads and feathers topped supply lists; leather, knit, and rayon became fabrics of choice.
So, how can you go deco?
Clothing:
Incorporating the art-deco vibe into a wearable wardrobe is simple, chic and fun. Audrey Hepburn and Marlene Dietrich themselves approved — sporting fitted trousers and broad-shouldered tops for the first time.
• Look for high-waist pants with tapered legs to emphasize an hourglass shape. Trousers ought to be fitted so the female form does not disappear entirely.
• Drop-waist, flapper-like dresses are excellent, if you've the lean figure for it.
• Shirt-dresses are an easy, comfortable way to incorporate the crisp, geometric lines popular in the era.
• Eveningwear that is tight but still embellished with funky seams and drapes is key. And look for an open back — the erotic zone of this period.
Accessorize:
• Self-expression and fashionable, art-deco dressing is easy to achieve via accessories, which took off during this clothing-rationed time.
• Look for Egyptian-themed jewelry, scarab beetles, natural stones (like turquoise and coral) and gold.
• Do not overaccessorize if your outfit is already on the art-deco edge of costume-y. All those beads and feathers, seams and layers can be overpowering. Don't lose your feminine shape. "Too much going on" is not the point, nor a flattering description wanted by any recipient.
Copyright 2018 The Lawrence Journal-World. All rights reserved. This material may not be published, broadcast, rewritten or redistributed. We strive to uphold our values for every story published.