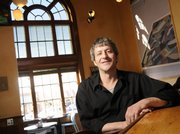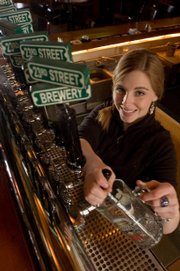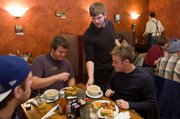 Tips for customers
Don't:
• Greg Low, Teller's: Demanding something that's already there.
• David Noffsinger, Milton's: Refusing to pay for food they didn't like.
• Brooke Dacunha, Milton's: Talking on the cell phone while ordering.
Do:
• Andrew German, 23rd St. Brewery: Ask for things like sugar and cream for your coffee all at once.
• Katy Wade, Mirth Café: Tell your server what you want in a friendly way.
• Erica Krause, 23rd St. Brewery: Be patient when the restaurant is busy.
Teller's bartender and server Tim Hosler has been waiting tables for 15 years. He enjoys the job.
"At the end of the day, you know you did something good, made someone happy," Hosler says.
In those 15 years, however, he's seen his share of bad behavior from customers.
"I've seen some pretty rude things," says Hosler, adding that despite how a customer acts, he has to be in a good mood, grit his teeth and be polite.
But Hosler, along with some other area waiters and waitresses, have a lot to say about customers' bad behavior, pet peeves and misconceptions about being a server.
And they've all got that one story about the rudest customer they've dealt with.
Milton's server Brooke Dacunha has been a waitress for 12 years, and while she's seen just about everything in the line of duty, one story sticks out. Dacunha says that once, after informing a customer his waffles had been burned in the kitchen, replied, "You'd better get me something to eat fast or I'm going to bite your face off."
Katy Wade, manager and server at Mirth Café, says she once had an intoxicated customer come up to the counter and spit water, like a fountain, in front of her.
And while those are extreme examples of bad customer behavior, there are also some less severe customer behaviors that get under some local servers' skin.
For Wade, it's the customers who fail to notice signs, or worse, those who fail to notice her. Wade says she will sometimes go up to a table, greet a customer and receive absolutely no response in return.
Erica Krause, server and bartender at 23rd St. Brewery, gets frustrated by the impatient customer, those "who don't realize they're not the only person in the restaurant."
Krause and fellow 23rd St. Brewery co-worker Andrew German also have the occasional problem with an extra flirty customer.
"Some people do cross the line," says Krause of male customers who try to get her phone number while she's working.
But Krause has it easy, according to German.
"The women are worse than the men," German says when it comes to flirty customers.
Misconceptions
It's not certain behaviors, however, that get to some servers, but rather various misconceptions about those who work in the field. Milton's server David Noffsinger, who waits tables to supplement the income from his first passion, music, says he feels customers often don't realize that servers have dreams and aspirations outside of waiting tables.
Dacunha, who is attending Baker University to become a nurse, says that she frequently sees a lack of respect for the serving profession. Dacunha says that while serving is often a stepping stone for people attending college, serving is a profession with a skill set not everyone has.
"It's a craft we've worked hard at," Dacunha says.
But waiting tables is an easy job. You take an order and bring out the food. Pretty simple, right?
Not so, according to German, who says the job requires a lot of multitasking and running around.
"Its very high, short-term stress," German says.
Advice to customers
And while certain things just go with the job, servers have some friendly suggestions for customers that can make the job a little more enjoyable.
Wade says the key to a good server/customer relationship is simple: friendly communication.
"We're not mind readers," Wade says.
Dacunha's advice to customers is to try and put themselves in a server's shoes.
"Try to understand what it's like to be us," Dacunha says.
Copyright 2018 The Lawrence Journal-World. All rights reserved. This material may not be published, broadcast, rewritten or redistributed. We strive to uphold our values for every story published.