Photo Gallery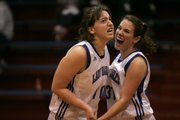 Veritas girls vs. Midland
Eudora — Goodbye, six-game losing streak. So long, 1-10 record.
Say hello to the new Veritas Christian girls basketball team: the one confidently toting a shiny four-game winning streak following its 44-40 comeback victory against Midland Adventist Saturday night at the Eudora Community Learning Center.
The days of floundering on the court seem like a distant memory now.
"It's great," Veritas coach Kevin Shelton said of his team's new swagger. "Being 1-10 was pretty tough. We knew we were a better team than how we were playing."
In reality, Veritas (5-10) last hit the skids just 11 days ago. So what got into this bunch of Eagles over the past 11 days?
"I think it's just confidence and learning to play together," Shelton said. "We lost a lot of players off last year's team, and it's just taken us a little while to learn how to play."
The Eagles needed every bit of that confidence because a listless first half left them trailing, 24-14, at the break. For the half, Veritas shot 5-for-27 (18.5 percent). Between a Taelyr Shelton three-pointer and a Melissa Hardee jumper to end the second quarter, Veritas went 6:16 without a field goal.
Then, slowly but surely, Veritas came back to life.
Trailing, 35-32, Veritas guard Kirsten Bennett buried a three to tie the game with 4:25 left in the contest. On the next trip, Hardee rattled a jumper through the hoop for a 37-35 advantage.
When center Becky Finger notched two free throws with 1:53 left, it completed a 7-0 run and helped put the game away.
Shelton led the Eagles with 15 points.
Copyright 2017 The Lawrence Journal-World. All rights reserved. This material may not be published, broadcast, rewritten or redistributed. We strive to uphold our values for every story published.