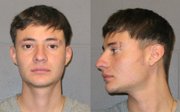 Prosecutors this week filed 10 charges against a 23-year-old Lawrence man accused of leading police on a chase and crashing into a car earlier this month, Douglas County District Court records said.
But the suspect, Jaime Infante, did not show up for his first appearance Wednesday in Douglas County District Court, prosecutors said. Infante was released from jail on $2,525 bond, said Chief Assistant District Attorney David Melton.
Police said Infante led officers on a Dec. 16 chase that lasted less than five minutes. During the chase, officers said, the man ran his truck into a car, injuring one person inside. The chase started near 23rd Street and Barker Avenue and ended at 23rd Street and Ponderosa Drive.
Prosecutors charged Infante with two counts of fleeing or attempting to elude a police officer, driving under the influence of alcohol or drugs, reckless driving and various other traffic infractions.
Copyright 2018 The Lawrence Journal-World. All rights reserved. This material may not be published, broadcast, rewritten or redistributed. We strive to uphold our values for every story published.