Audio Clips
2009 KU women vs. Pepperdine
Photo Gallery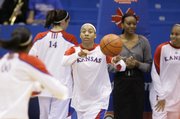 2009 KU women vs. Pepperdine
-->
KU scoring — Morris 22 (10-for-17 shooting), McCray 15 (7-for-13 shooting), Boogaard 10, Goodrich 9, Sutherland 8 (12 rebounds), Engelman 7, Carolyn Davis 5, Kohn 3, Jacobs 2, Smith 1.
KU was 36-for-69 from the floor (52.2 percent), 4-for-12 from three (33.3 percent) and 6-for-8 from the free-throw line (75 percent).
Pepperdine was 24-for-64 from the floor (37.5 percent), 5-for-16 from three (31.3 percent) and 10-for-18 from the free-throw line (55.6 percent).
Pepperdine had 20 turnovers to KU's 16. KU out-rebounded Pepperdine, 44-36.
FINAL: KU women defeat Pepperdine, 82-63
Kohn gets her first points, draining a three from the corner. Carolyn Davis adds her second basket with a layup inside. Finally, Pepperdine clears its bench.
Rhea Codio checks in for KU and she continues her early-season struggles. Her first three times touching the basketball, she turns it over, leading to some easy points for Pepperdine.
KU closes out a 19-point victory.
KU 77/Pepperdine 58 — 3:44 left in game
Carolyn Davis checks in and puts in her first two, getting a leaning layup to go in with a foul. Give the assist to Kohn. Davis finishes the three-point play with a free throw.
Pepperdine continues to play its regulars against KU's second team hoping for a comeback. Ayim hits a jumper, but the Waves are still down 19.
KU 72/Pepperdine 52 — 7:10 left in game
KU isn't having many problems with the zone that Pepperdine has thrown at it. McCray drives to draw attention to the middle of the zone, then kicks out to Engelman for a three.
Engleman comes away with a steal, but her reverse layup try falls off the rim.
Following a layup by Jazmine Jackson, KU coach Bonnie Henrickson signals for a timeout. KU doesn't have the best offensive grouping out there right now with Kelly Kohn, Marisha Brown, Jacobs, Smith and Engelman.
KU 67/Pepperdine 44 — 11:12 left in game
Another assist for Goodrich, and another baseline jumper for Morris. The senior guard's career high is 26 points, and she has 20 right now.
Nice pass across the lane from Smith, who finds Boogaard for an uncotested layup.
KU has three starters in double figures (Morris, McCray, Boogaard) and two more that will probably get there (Goodrich 9, Sutherland 8).
KU 59/Pepperdine 37 — 15:22 left in game
Morris fakes to the baseline before driving right by her defender for a quick left-handed layup.
KU's defense hasn't been as sharp out of the break. Pepperdine opens by making three of its first five shots to cut into KU's lead.
Morris puts in a jumper, then cuts on the baseline to receive a pass from Goodrich for a lay-in. Morris already is up to 18 points.
KU scoring — Morris 12, McCray 11 (5-for-7 shooting), Sutherland 8 (3-for-3 shooting), Boogaard 8, Goodrich 5, Engelman 4, Smith 1.
KU was 22-for-37 from the floor (59.5 percent), 2-for-5 from three (40 percent) and 3-for-5 from the free-throw line (60 percent).
Pepperdine was 10-for-30 from the floor (33.3 percent), 2-for-8 from three (25 percent) and 5-for-8 from three (62.5 percent).
KU out-rebounded Pepperdine, 24-15, in the first half. The Waves had 12 turnovers to the Jayhawks' six.
Pepperdine's leading scorer, Miranda Ayim, finished the first half with eight points on 4-for-7 shooting.
KU 49/Pepperdine 27 — Halftime
I guess the hot streak couldn't last forever.
KU puts in only one field goal in the final four minutes of the half, as Morris drives in for a two with 7 seconds left. The Jayhawks also added three free throws from Nicollette Smith and Sutherland.
The scoring slowdown shouldn't affect the outcome, though, as KU still takes a 22-point lead into the break.
KU 44/Pepperdine 21 — 3:57 left in 1st half
McCray makes another near-impossible shot, double-pumping to avoid a defender before draining a 12-foot shot. Credit that shot to instinct and sheer talent, as it's not an attempt you'll ever practice during the week.
Boogaard cleans up a miss by Goodrich, and she puts the follow back in for two with a foul.
On the fast break, Goodrich shows more of her magic with the basketball, dropping a no-look, two-handed bounce pass on the perimeter to McCray, who steps back to swish the open three. McCray could only laugh when pointing to Goodrich to acknowledge her for the pass, as I'm pretty sure that McCray had no idea that pass was coming until it was already to her.
Sutherland puts in a jumper, and Morris follows with a two of her own.
Morris nearly comes up with a steal, and she spills onto the scorer's table with the effort. While getting up, she makes sure to straighten back up a TV monitor that she had knocked over right in front of Journal-World sports editor Tom Keegan. That brought a smile and laugh from Tom.
KU is keeping up its good shooting, as the Jayhawks are 21-for-34 from the floor (61.8 percent).
KU 34/Pepperdine 17 — 7:52 left in 1st half
McCray knocks in her first three, and she's made two of her first three shots.
Morris follows up with a shot from the elbow, and the Jayhawks are off to a good shooting start (10-for-17, 58.8 percent).
Another pull-up jumper swishes through for McCray. She doesn't miss many open shots.
KU has been able to extend its lead with Goodrich taking a break. LaChelda Jacobs has checked in for her, but KU's offense hasn't cooled down, thanks mostly to Morris. She drives in the lane to draw two defenders, then floats a pass across the lane to Boogaard for an easy layup. Two possessions later, Morris takes it all the way to the rim for two more.
McCray adds a steal, and she finds the just-checked in Goodrich on a bounce pass. The freshman swishes the three from a step behind the men's three-point line, and Pepperdine uses another timeout to try to halt a 14-2 KU run.
At the media timeout, KU is a blazing 16-for-26 (61.5 percent) from the floor.
KU 20/Pepperdine 13 — 11:50 left in 1st half
McCray puts in her first field goal, and this one has a high degree of difficulty. After faking a shot, she leans into the defender and puts in a shot off the glass and in.
Monica Engelman, who isn't bashful about shooting, puts in jumpshots on her second and third possessions after checking in. On her second bucket, she used an upfake to clear a defender before swishing a 16-footer. Pepperdine calls timeout following the freshman's consecutive baskets.
Turnovers already have been a problem for Pepperdine, as the Waves have four giveaways in the first eight minutes.
KU 10/Pepperdine 6 — 15:55 left in 1st half
Sade Morris opens the scoring for KU with a mid-range jumper. The next possession, Morris finds Aishah Sutherland underneath, and the sophomore puts in an easy layup.
Pepperdine has tried some full-court pressure, but so far, KU's Angel Goodrich has been able to get out of it pretty easily. After dribbling past a double-team, Goodrich took it all the way to the rim for a layup to put KU up 6-1.
Jazmine Jackson hits an open three for Pepperdine's first field goal. The Waves started the game 0-for-5 from the field.
KU's Krysten Boogaard follows with a left-handed layup, and Morris gets a shot in the lane to bounce in.
1:02 p.m.
A pretty good crowd has shuffled in here, considering the awkward start time and also the less-than-ideal weather conditions. I'd say about 3,000 fans have shown up for this afternoon game.
12:40 p.m.
Welcome back to the Newell Post Live, coming to you from Allen Fieldhouse where the 21st-ranked Kansas women's basketball team (9-2) is getting set to take on Pepperdine (9-4).
So why the early start time for today's game? Chuck Woodling explains it well in this piece, but to make a long story short, the afternoon tip saves road teams on expenses.
Today's game should be a good test for KU, as Pepperdine has won four straight games, including victories over San Diego State and Nevada.
Meanwhile, KU's All-American candidate Danielle McCray is coming off her best performance of the season. She scored 37 points on 17-for-22 shooting on Dec. 22 against Houston. The senior also scored 30 points in her previous game against UC Riverside. Her scoring average is up to 21.7 points per game, which is even better than her 21.6 points per game from a year ago.
KU's inside players will get a test today, as Pepperdine's 6-foot-3 center Miranda Ayim leads her team with 14.3 points and 7.0 rebounds per game.
Check back for more updates as we get closer to gametime.
Copyright 2018 The Lawrence Journal-World. All rights reserved. This material may not be published, broadcast, rewritten or redistributed. We strive to uphold our values for every story published.