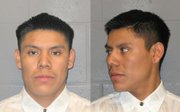 A Lawrence man pleaded guilty to rape Wednesday for an August attack outside a Lawrence bar, Douglas County prosecutors said.
Prosecutors said Alejandro Cortez raped a woman as she was leaving Wilde's Chateau, 2412 Iowa. During a preliminary hearing, the victim said she stole her attacker's wallet and tried to obtain his DNA during the attack. Officers arrested Cortez at his home later that morning.
The man faces a sentence of between 12 and 52 years in prison, depending on his criminal history, said Amy McGowan, chief assistant district attorney. Sentencing is scheduled for Feb. 26 before Judge Peggy Kittel.
As part of a plea deal, a charge of aggravated kidnapping was dropped against Cortez, McGowan said.
Copyright 2018 The Lawrence Journal-World. All rights reserved. This material may not be published, broadcast, rewritten or redistributed. We strive to uphold our values for every story published.