Winter Weather
Winter weather information
Kansas weather updates, via Twitter
Photo Gallery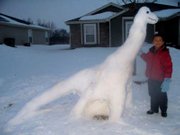 Lawrence snowmen
Snowmen built by Lawrence residents.
12:13 p.m.
The Douglas County sheriff's office reported a "significant increase" in the number of traffic accidents Wednesday on state and county highways.
"Fortunately the increased numbers have mostly been minor accidents, mainly cars off the roadway into the ditch," said Sgt. Steve Lewis, sheriff's spokesman.
Lewis said there have been especially few injuries, because the "poor road conditions have slowed motorists down."
— Jesse Fray
11:35 a.m.
According to 6News Chief Meteorologist Matt Elwell, Lawrence received 1.7 inches of snow from Tuesday night into Wednesday morning. Some additional accumulation is possible today, though it would not be substantial.
10:45 a.m.
Lawrence police said today's snow has caused a number of problems for drivers.
Officers have responded to 11 motorist assist calls in the city since midnight, in which drivers have been stuck, said Sgt. Michael Monroe, Lawrence police spokesman.
Police also responded to eight accidents since midnight, including one which involved minor injuries.
— Jesse Fray
10:30 a.m.
By 10:30 Wednesday morning, with temperatures climbing above freezing, most roads in the area had gone from snowy to slushy.
According to the Kansas Department of Transportation, the Kansas Turnpike is the only road in the area still deemed "completely snowpacked."
Kansas Highway 10, U.S. Highways 24, 40 and 59 are all considered slushy at this time.
Most residential streets were also at least partially clear from cars driving down them.
8 a.m.
If you're still on your way out the door, roads around the area will be less than ideal.
Kansas Highway 10 out of Lawrence is slushy, as are many of the main thoroughfares in Lawrence. Most residential streets are yet to be treated by Lawrence crews, who've been working almost around the clock since Christmas Eve.
According to the Kansas Department of Transportation, the Kansas Turnpike is classified as completely snowpacked or icy. K-10, Highway 40, Highway 59 and Highway 24 are all in the same condition.
If you're traveling to Topeka and Kansas City, however, the department of transportation says highways in those areas are only partly snowpacked or icy.
An additional up to one-half inch of snow accumulation is possible through the daylight hours today and into tonight, according to the National Weather Service.
Leave yourself extra time if you have somewhere to go and slow down.
Copyright 2018 The Lawrence Journal-World. All rights reserved. This material may not be published, broadcast, rewritten or redistributed. We strive to uphold our values for every story published.