Photo Gallery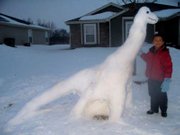 Lawrence snowmen
Snowmen built by Lawrence residents.
Photo Gallery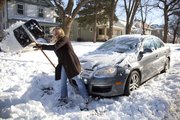 2009 Christmas storm
Stressed snow shovelers now have a little extra time.
City Hall leaders announced Tuesday that they have decided against citing people for violating the city's new stricter snow shoveling ordinance for the rest of this week.
Instead, city inspectors will hand-deliver written warning notices to addresses where the city has received a complaint about an unshoveled sidewalk. By Tuesday afternoon, the city had received about 250 complaints.
"We really felt strongly that we didn't want to start writing tickets today," said Megan Gilliland, the city's communications manager. "We want to do a public education campaign so that people are really aware of this ordinance."
But the warning notice does tell property owners that city inspectors will return during the week of Jan. 4 to re-inspect the property. If an effort to shovel the sidewalks has not been made at that time, the property owner will be subject to a city ticket. The fine for the ticket is $20 per day, plus $52 in city court costs.
The City Commission in December 2008 passed a stricter snow shoveling ordinance that requires public sidewalks to be cleared within 48 hours after snow stops falling in the area. A major part of the new ordinance was that the city would stop the practice of issuing a warning to property owners.
But Gilliland said the extraordinary amount of snow from the storm — about 8.5 inches — caused city officials to rethink how to enforce the ordinance. Although the ordinance was approved more than a year ago, this is the first major snowfall the city has enforced the ordinance.
City inspectors also are being lenient in how they gauge compliance with the issue. Brian Jimenez, the city's codes enforcement manager, said his inspectors are looking for evidence that property owners have made a good-faith effort to remove snow from their sidewalks.
The city will not ticket people who have had their sidewalks covered by mounds of snow from plowing operations.
The city and Douglas County Senior Services also offers a snow shoveling program for the elderly or other people who can not physically shovel their walks. People can call 842-0543 for more information about that program.
Copyright 2018 The Lawrence Journal-World. All rights reserved. This material may not be published, broadcast, rewritten or redistributed. We strive to uphold our values for every story published.