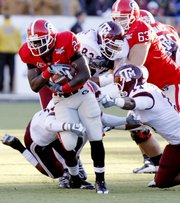 Shreveport, La. — Brandon Boykin's teammates were giving him all kinds of kudos after his school record-setting kickoff return for a touchdown sparked Georgia's victory over Texas A&M; in the Independence Bowl.
Boykin wanted none of it, though. To hear him tell it, all he did was run.
"The kick return that I had I really couldn't take credit for that," Boykin said. "The kick was short and my blocking, I felt like it parted just like the Red Sea."
His third kickoff return for a score of the season — an 81-yarder late in the second quarter — hardly qualified as a miracle, but it was just what the Bulldogs needed to fuel a 44-20 victory on Monday.
Copyright 2018 The Associated Press. All rights reserved. This material may not be published, broadcast, rewritten or redistributed. We strive to uphold our values for every story published.