Photo Gallery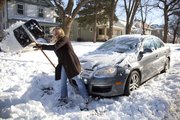 2009 Christmas storm
Photo Gallery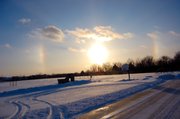 Winter Weather 2009-10
Kelly Jones, a volunteer snow shoveler with the Safe Seniors Walkway program, received a little help Monday in front of an east Lawrence home.
As Jones shoveled her way south down the sidewalk, Lawrence resident Jerry Elliott was shoveling north, and they soon met in the middle of a snow-free sidewalk.
Just one neighbor helping another neighbor.
"Everybody needs a little help now and again," Elliott said. He's not part of the shoveling program, but when it snows, he heads out to help his neighbor, an elderly woman who has health problems.
For Jones, volunteering is a simple way to help out in Lawrence. The Safe Seniors Walkway program, organized by the Douglas County Senior Services Inc., matches about 20 volunteers with elderly residents who cannot afford snow removal. When it snows, either Jones or her husband head out with their two daughters and get to work.
"This is a really easy thing to do," said Jones. "(And) it's good for my kids to see some volunteering and helping out in the community."
Despite the recent heavy snow, Matthew Leiste, one of the program coordinators, said there's been enough support in Lawrence to help older residents with snow shoveling so far this year.
"The volunteers have pretty much been on top of it," he said.
Through Jan. 5, the program will take applications from seniors, who must be 60 years old to qualify. While they've had enough help so far, with more snow expected this week, Leiste said the program can always use more volunteers.
But people don't have to sign up for the program to help a neighbor in need, said Jones, who frequently receives help from surrounding neighbors – like Elliott – when shoveling for a program participant.
Elliott said helping out just seems like the right thing to do.
"You help your neighbors," he said.
For more information about the program, contact Senior Services Inc., 842-0543.
Copyright 2018 The Lawrence Journal-World. All rights reserved. This material may not be published, broadcast, rewritten or redistributed. We strive to uphold our values for every story published.