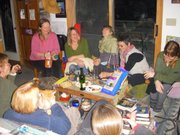 Some women bond over bridge, Bunco or book clubs. Others connect in coffee klatches or cocktail hours. Still others share fun, fears and frustrations during tennis games, workouts or long-distance runs.
But some prefer heated discussions — very heated — like the group of intrepid female friends who gather every week in a 180-degree wood-burning Finnish sauna.
The Thursday night sisterhood of sweat was started eight years ago by Lauretta Hendricks Backus, a longtime sauna aficionado.
"My husband's father (Oswald Prentiss Backus III) was a professor in Eastern European studies, and he took two sabbaticals with his family in the '60s," Backus explains. "They lived in Finland and got into taking saunas there. So, when they came back to Lawrence, they put a sauna in their house. I believe it was the first sauna in Lawrence.
"Meanwhile, I used to take saunas at Robinson Gym at KU and always liked them. Then, I married Ozzie, and we'd take the kids to the Robinson sauna after swimming lessons."
Eventually, Lauretta and Ozzie built their own sauna at their country home south of Lawrence.
"We had — and still have — regular, monthly open saunas for anybody that wants to come," she says. "But it's coed, and a lot of my friends aren't used to that — taking your clothes off or whatever — so I thought 'Why not just have an all-girl one?'"
A ritual was born, starting with five or six women and eventually exceeding 15, at times.
"I usually start the fire around 6:30, then everyone shows up right around 7. People bring wine or beer and food, and we sit and have a drink in my studio. Then, we go in around 7:20 and go in and out of the sauna about three times. We have a six-foot horse tank on the deck and a smaller horse tank inside (for submerging between sessions). People are usually gone by 9:30."
Retta repeated the routine weekly until "sauna girl" and Lawrence resident Louise Smith took over the heated hosting duties on alternate weeks.
"I had always wanted to build one at our place, so — about six years ago — we built a free-standing sauna building in back of our house," Smith recalls. "We answered an ad in the newspaper from someone who was tearing a sauna apart during a remodel. It turned out to be the sauna in the house where the Backuses grew up. We got the cedar planks for the benches, walls and ceiling, and the wood stove, too."
The appeal of sauna night goes beyond working up a good sweat.
"The heat is very relaxing, but it's not just the sauna," says Malika Lyon. "It's the whole experience. There is a bonding. It's fun, and it's a source of support. Some of the women have been through really life-threatening health challenges, and we share that. We have worries with our children that we share. And we talk about books and movies, things like that."
Janette Michaels agrees.
"I go every week or every other week," she says. "I get so much out of it, especially the camaraderie with the other women. We just share our lives as we live them. We've been through illnesses, and children and grandchildren. All of the things life throws your way. And (the heat) is an incredibly comforting feeling. It feels really healthy."
The group grew organically as one woman invited another to take part in the perspiration.
"I got into it through Janette because we'd been longtime friends," remembers Mickey Alberding, a three-year sauna night regular. "She introduced me to Retta. And, actually, Janette used to have a sauna when she lived way north of town, and we used to take them out there."
Vickie Goetz was part of the original coed sauna group before converting to the girls-only Thursday night format.
"Retta's very outgoing and friendly, and it just seems like there's always somebody new that comes," Goetz notes. "Someone she met through the Unitarian Fellowship or work or an old friend from out-of-town. I've met a lot of really nice women."
Jennifer Ball credits the sauna group for helping her establish roots as a newcomer to Lawrence.
"I know that without this group of women, I wouldn't still be in Kansas," she said recently, while relaxing before a sauna. "That's the truth. Before I met them, I had no community here. Now I do."
Backus says there's a stripped-down honesty and closeness in her group of friends that would be there whether they were sipping coffee or cocktails, playing Bunco or bridge. But, she adds, there is something special about the sauna.
"You're at your most genuine when you're in there."
Copyright 2017 The Lawrence Journal-World. All rights reserved. This material may not be published, broadcast, rewritten or redistributed. We strive to uphold our values for every story published.