Photo Gallery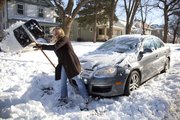 2009 Christmas storm
Photo Gallery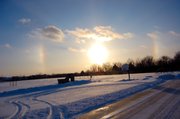 Winter Weather 2009-10
By at least one measure, Lawrence's Christmas Blizzard was as powerful as about nine storms combined.
City Hall leaders are estimating that the costs for city crews to clear Lawrence's streets of snow will be about as much as the city spent for all nine storms that the city worked last winter.
"My guess right now, off the top of my head, is that we'll spend $200,000, $300,000 or maybe a little more," said Public Works Director Chuck Soules.
For the 2008-2009 snow season, the city spent $300,063 on snow removal costs. That money, however, was spread over nine different snow storms. All together, those storms dumped 10.6 inches of snow on the city. This single storm system dumped almost that much by itself.
But the timing of the recent storm also had a lot to do with the costs. City crews began working 12-hour shifts Thursday evening. On Christmas Day workers were paid double their normal salaries for working on a holiday, and in many cases, were paid time-and-a-half because the hours pushed them over 40 hours for the week.
The blowing nature of the snow also led to greater costs. The city hired Lawrence-based R.D. Johnson Excavating to help remove snow from streets. Soules said city officials decided to take the unusual step of hiring private help after it became obvious that the blowing snow would require streets to be plowed several times.
R.D. Johnson sent out employees with loaders, dumptrucks and road graders to help city crews.
"I'm not exactly sure right now how much we used them," Soules said. "We kept asking them for more, and they kept getting us more."
City Manager David Corliss said the city's budget will survive. He said the city likely will take money out of the Public Works Department's reserve funds to pay for the snow clearing.
"Right now, we're moving snow, not invoices," Corliss said. "This is a priority for us. We'll spend the money necessary to move the snow. I know some people's patience has been taxed by how long it has taken to get to every street. I know our workers' patience has been taxed by how long it takes to move this much snow."
Soules said the city's salt and sand supplies have held up well during the storm. The city started this month with 4,000 tons of salt, 1,000 tons of sand and 2,500 tons of a salt-sand mix. The city also has an additional 1,000 tons of salt on order, if needed.
"We're hoping, though, that we've had our turn and Mother Nature will give us a break," Soules said.
Copyright 2018 The Lawrence Journal-World. All rights reserved. This material may not be published, broadcast, rewritten or redistributed. We strive to uphold our values for every story published.