Photo Gallery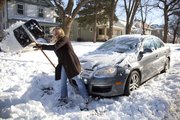 2009 Christmas storm
Photo Gallery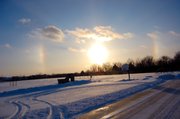 Winter Weather 2009-10
The first tickets issued under the city's stricter sidewalk snow shoveling ordinance may come as early as Tuesday morning.
That's when city inspectors will begin responding to complaints of unshoveled sidewalks, said Brian Jimenez, the city's director of codes.
The city's stricter ordinance requires sidewalks to be cleared within 48 hours after snow stops falling in the area. The new ordinance also eliminates the city's practice of issuing a warning before ticketing a property owner. Instead, Jimenez said the new practice will be that property owners will receive a Municipal Court ticket in the mail.
The ticket carries a $20 fine, but violators also will be responsible for paying the $52 in court costs associated with the ticket. In other words a snowy sidewalk, may cost a property owner $72.
But Jimenez said his inspectors don't have hearts as cold as the weather. He said some leeway will be given to property owners, given the extraordinary amount of snow that fell in the city.
"We're discussing how much leeway right now," Jimenez said Monday afternoon. "If somebody has made the attempt to shovel their sidewalk, I think in most instances we'll consider that as compliance. I think most of our concern will be when the sidewalks haven't been touched at all."
Jimenez also said property owners on Tuesday shouldn't worry about being ticketed for a sidewalk that was recently covered by snow thrown from a city plow. He said it is easy for inspectors to recognize when a snowplow has covered a sidewalk.
City inspectors won't be traveling throughout the city to look for violations of the snow shoveling ordinance, but instead will be responding to complaints. If inspectors, though, see obvious violations at other properties while responding to complaints, they can issue tickets, Jimenez said.
People wanting to make a complaint can call the city at 832-7700 or can file a complaint online at the city's Web site.
By Monday afternoon, the city had received about 15 complaints.
The city passed the stricter snow shoveling ordinance in December 2008, but this will be the first major snowfall that it has been enforced.
Copyright 2018 The Lawrence Journal-World. All rights reserved. This material may not be published, broadcast, rewritten or redistributed. We strive to uphold our values for every story published.