Photo Gallery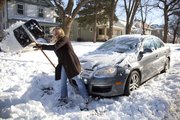 2009 Christmas storm
Photo Gallery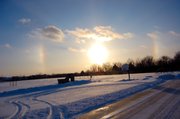 Winter Weather 2009-10
If he'd had three times the manpower and equipment, it would've been a cinch.
But Tom Orzulak, the city's street division manager, said the snow event that crippled the city during the Christmas holiday weekend was the biggest he'd seen in his 20 years on the job.
"When you get something like this, you just can't do it; you just don't have enough manpower and equipment," said Orzulak, who is in charge of the city's snow removal duties. "It's just been a challenge with the amount of snow that we've had."
Orzulak said his crews have been working diligently to recover from the snow that began as a blizzard Thursday night, then tapered off and eventually ended Sunday morning.
Since Wednesday, Orzulak said 40 city workers have been working in two shifts around the clock to clear city streets, which cover 805 lane miles. The workers had to change or cancel their holiday plans to stay out on the streets.
High winds created large snowdrifts, 5 to 6 feet deep in some areas, making removal operations even more complicated, Orzulak said.
He said snowplow crews were running out of places to push the packed snow, and in some areas loaders were being used to take the snow elsewhere.
While more equipment and workers would've made the job easier, Orzulak said it wouldn't be a wise investment for such a rare snow event, which produced about 9 inches of snowfall.
By this morning, Orzulak said, every street in the city should be plowed. The city's snow policy is to clear arterial and collector streets first and then work to clear residential streets, he said.
"A lot of the streets aren't pretty, but they're passable and that's basically our goal," he said. Orzulak expected crews could continue working up to three more days clearing streets and treating the roads with a salt and sand mixture to help dissolve the ice underneath the snow and in case more snow falls Tuesday night, as forecast.
"(A system is) coming out and it's heading this direction but it's not nearly as potent as the last storm," said Matt Elwell, 6News meteorologist.
Out in the county, road crews wrapped up their around-the-clock operations Sunday night, according to John Landon, a county snow supervisor. He said the 385 lane miles of road maintained by Douglas County were all bare and open for traffic.
Orzulak said the efforts are more difficult for the city, because crews are confined by the curbs, parked cars and numerous intersections.
A reminder about the city's snow-shoveling policy: Property owners have 48 hours following the end of a snowfall to clear their sidewalks. The fine is $20.
Copyright 2018 The Lawrence Journal-World. All rights reserved. This material may not be published, broadcast, rewritten or redistributed. We strive to uphold our values for every story published.