Photo Gallery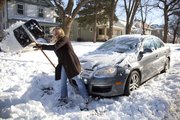 2009 Christmas storm
The snow will stay for a while, but the Christmas Blizzard of 2009 is on its way out of town.
"It's wrapping up," said 6News Meteorologist Ed Bloodsworth. "(But) it's going to stay cold."
And referring to the recent storm as a "blizzard" isn't simply a figure of speech.
"We've reached blizzard criteria," Bloodsworth said, which means the storm met wind and sustained snowfall requirements that sufficiently reduced visibility.
The total snowfall tally in Douglas County as of Saturday morning ranged from 8.5 inches in Lawrence to 10 inches in Lecompton, according to the National Weather Service.
While the snow has eased up, Lawrence police said area roads remain dangerous.
"The roads still require a lot of caution," said Sgt. Mark Warren.
The police did not have a tally of storm-related vehicle accidents, but, Warren said, "we've been busy."
Bloodsworth said the area will have seen the last of the snowfall by this morning, but temperatures will continue to dip into the teens and 20s through early this week.
Copyright 2018 The Lawrence Journal-World. All rights reserved. This material may not be published, broadcast, rewritten or redistributed. We strive to uphold our values for every story published.