Photo Gallery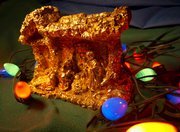 Christmas Kitsch from Lawrence
This is Lisa Grossman's golden crèche, and other "curious" Christmas decor from around town. Curious, as in: curious how that continues to escape the garbage bin. The readers who submitted these pics share why they're sentimental about these odd home ornaments.
Never do lowbrow tastes and high sentiment clash more dangerously than at Christmas.
Maybe that's why kitsch is most likely to take a place of honor in the home over the holidays, whether it's atop the Christmas tree or guarding the front door. We asked readers to share their own holiday kitsch with us - items they found both garish and charming, ironic and sentimental. Enjoy this bit of quirky holiday cheer, described in our readers' own words:
Lisa Grossman's golden crèche
This was a gift shipped to me from my Grandma in 1999. I presume she ordered it from one of her favorite mail-order catalogs - Lilian Vernon, Avon or such.
On first glance, it seems to be some sort of gilded barnacle or woody tree fungus. Then figures appear, their faces nearly obliterated with the heavy gold coating. It's the Holy Family, leaving a trail of flaked gold everywhere.
I have displayed it, on occasion, and I'm ashamed to say that it's mainly for the joke. But, I do have great fondness for it. My grandmother died, unfortunately, the year after she sent it. My whole life, she made incredibly kitschy things, mainly out of yarn, beads and egg cartons. But, occasionally, she would actually buy these over-the-top decorations.
One year she gave us a petrified wood Jesus she got in Arizona. It was a plastic Jesus stuck in resin that was surrounded by hunks of petrified wood. She was always getting us that kind of thing. And it was always a surprise.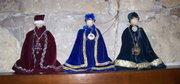 Carol Graham's Three Wise Women
I wanted something large for my mantle. I had made three angels but they kind of faded into the gray stone behind them. I was looking for three wise men but couldn't find any. So, I decided to make three "wise women" out of the angels. I pinned their wings back and used knobs that go on the end of (curtain) rods for the heads. One of the robes was from an old robe of mine. I couldn't find crowns so I made them, too. I used old jewelry for the gifts and just kitsched them up.
While making it, I was thinking about something I read in a catalogue once. It said, "Do you know what would have happened if it had been three wise women? They would have asked directions, arrived on time, helped deliver the baby, cleaned the stables, made a casserole, brought practical gifts and there would be peace on earth."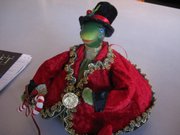 Rae Hudspeth's Frank, the turtle drag queen
I got this guy a couple years ago. Some friends held a white elephant Christmas party where you bring a gift to exchange. You unwrap it and people can steal it, if they want to. Needless to say, we were stuck with this one. I have no clue what it is, but I named it Frank.
It's kind of a bean bag, so I wondered if it was a door stop? But, no, it has a hanger on the back. I actually looked online to find out if it was a character from a story or a movie. Because it's so big and round, I thought it was a turtle. But it's got eyelashes and eyeliner, like a drag queen.
We bring it out and set it out under the tree at Christmas. I imagine one of these days I'll take it to another white elephant party.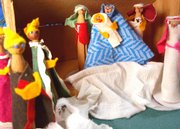 Kelly Barth's Polyester Holy Family
My sister, Kim, and I were the closest in age of four kids and we fought most of the time. But, there was this moment of peace when we created this little clothespin nativity set together. I was 7 or 8 and she was 12. We sat in the family room at a big table with piles of felt and glitter and beads and pencils and glue, and started just working.
I was responsible for the three wise men because my sister wasn't interested in doing them. She made the baby Jesus and Mary and Joseph, although there looks like there might be a little polyamory going on the way the one shepherd is so close to them. Mary is wearing a piece cut from an old church dress of my mother's that we all remember her wearing. We all loved her in that dress.
I don't think Kim liked it that much, so I ended up keeping it. I've had to repair them over the years because they've lost eyes and one of the shepherds needed re-gluing. Sometimes, I stick them on the tree because their little clothespin legs can straddle the branches, and I can create different little vignettes with them.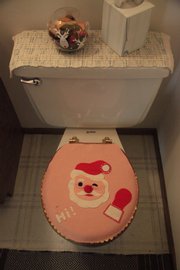 Debra Diehl's Santa toilet seat
My grandmother had this Santa toilet seat cover at her house when I was a child. It's over 40 years old. I got such a kick out of lifting up the lid and seeing Santa covering his eyes! I got it from her a couple of years ago and happily get it out every Christmas.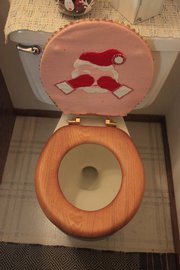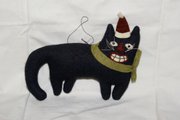 Pat Huberts' Halloween/Christmas cat
I have lots of kitsch but this is one of the favorites: a felt cat. We got him in Boothbay Harbor, Maine, several years ago. He seems to have a bit of a Halloween aura about him, so he gets to come out mid-October each year and stay until January. He makes me smile.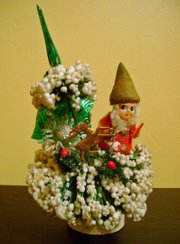 Ashlee Roll's Scariest elf on the shelf
This was my Nana's decoration. I'm assuming it's from the '60s because it was so scary. The scariest part is that it was part of a set, but that's the only remaining piece. I ended up with it because, for some reason, I really like weird, kitschy things.
He's a strange elf who looks way too happy. It's like a clown - you know how people are afraid of clowns? It's made with a lot of stuff from the '60s, like that blown fake Styrofoam. I'm sure it's really hazardous; it's probably asbestos.
I have a 2-year-old little girl and we keep it up high because it's so fragile. She's very interested in it, but doesn't seem to want to get too close to it.

Copyright 2018 The Lawrence Journal-World. All rights reserved. This material may not be published, broadcast, rewritten or redistributed. We strive to uphold our values for every story published.