Photo Gallery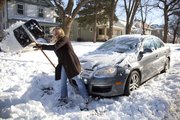 2009 Christmas storm
-->
Kansas weather updates, via Twitter
On the street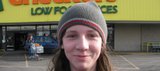 Yeah, snow is always awesome at Christmas.
Photo Gallery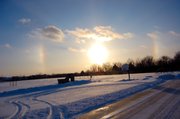 Winter Weather 2009-10
Winter Weather
Winter weather information
1:03 a.m.
The ride home from work, which usually takes 20 minutes, took 6News/Journal-World reporter Jesse Fray two hours tonight. It's a story playing out throughout Douglas County this morning.
"The road crews can't keep up with the out-of-control snow drifts," Fray said. "I've never seen anything like it."
Thankfully two strangers were able to push Fray away from being stuck and he was able to find an empty parking lot to leave his car.
"A friend came and got me in his SUV, but it ended up getting stuck as well, in the middle of an apartment complex street," Fray said. "My advice: Don't head out unless you absolutely have to."
12:38 a.m.
Portion of Kansas Highways 99 near the Nebraska border, K-16 north of Wamego and K-20 east of Horton are all closed because of heavy and drifting snow.
Across Douglas County, roads are completely snowpacked. Several drivers have reported very challenging conditions when taking to the roads.
12:32 a.m.
About 29 Westar Energy customers in Douglas County are currently without power.
According to the utility's Web site, the outage is concentrated in the area south of 23rd Street near Massachusetts Street.
12:25 a.m.
The National Weather Service is predicting 6 to 10 inches of snow before the storm is done, with the possibility for locally higher amount.
Several drivers around Lawrence have reported their vehicles being stuck on city streets because of snow drifts.
If you can avoid it, stay off the area roads.
11:15 p.m.
The roads are treacherous as of 11:15 p.m. Snow, on top of snow, on top of ice, on top of more ice means slow going on most well-worn Lawrence streets and no-going in some parking lots and minor thoroughfares.
According to 6News meteorologist Greg Postel, snow could keep falling the Lawrence area at the same rate as it is now — moderate — until anywhere from 4 a.m. to 6 a.m.
After that, snow should taper off a bit with flurries and light snow showers prevailing through Christmas Day.
9:20 p.m.
Douglas County dispatchers said emergency workers responded to 48 calls for help from drivers who had been in accidents or were stranded.
Four injury accidents were reported, but none were major. Several people were stuck Thursday night on the hilly areas of Bob Billings Parkway, between Iowa Street and Kasold Drive, dispatchers said.
8:20 p.m.
Douglas County is the bull's-eye for the snowstorm blanketing the region, said 6News meteorologist Greg Postel.
"It doesn't happen very often that way," he said. "This is a significant snow, the biggest one in years."
Traffic on Kansas Highway 10 was slow-moving Thursday night, said Postel, who traveled out to check the conditions firsthand.
"There was still some traffic … seems to be moving about 30 mph," he said.
Postel said the winds haven't been strong enough for the storm to be considered a blizzard, but that blowing and drifting snow were certainly evident and making the roadways treacherous.
Postel said the heaviest snow would be over by morning, with Friday's high temperature struggling to reach 20 degrees.
"There are silver linings in this," Postel said. "I think a lot of people in their hearts do like white Christmases."
7:05 p.m.
The roads of Douglas County are now considered to be mostly snow-packed by the Kansas Department of Transportation.
"Drifting is a huge problem," said KDOT spokeswoman Kim Qualls, in reminding people to take it slow.
Blizzard warnings have been issued in 10 states because of the major winter storm that stretches from northern Texas to Minnesota. The airport in Oklahoma City has been closed and flight schedules in many places have been disrupted.
Slippery roads are blamed for at least 14 deaths, including five in western Kansas.
6:40 p.m.
Blizzardlike conditions have hit northeast Kansas, as blowing snow blankets the region.
Ice changed over to snow about 6 p.m. Thursday and has been falling steadily ever since.
According to the National Weather Service, portions of northeast Kansas are expected to see 6 to 10 inches of snow by Friday evening with locally higher amounts possible. Nearly all of northeast Kansas should see snow, blowing snow and wind gusts up to 45 mph overnight and through the day Friday.
5:15 p.m.
The roads in Douglas County are now considered mostly snow-packed by Kansas highway officials.
Kim Qualls, Kansas Department of Transportation spokeswoman, said highway crews are on the roads treating and plowing throughout the counties of northeast Kansas.
"Due to the blowing/gusting winds, continued falling snow and the dropping temps, it will be extremely difficult to get roadways cleared and keep them that way overnight and throughout the day tomorrow," Qualls said.
4:40 p.m.
Some travelers on the Kansas Turnpike aren't letting anything stand in the way of their Christmas travels, despite the deteriorating road conditions.
"You hate not to go for Christmas and that's exactly why we're on the road, because I told my mom I'd come down," said Mary Hyland, of Hampton, Iowa, who was headed to Topeka.
Emergency workers kept busy along the Kansas Turnpike in Douglas County, responding to vehicle slide-offs in the area, including a car that slammed into a retaining wall and a van that slid off into a ditch.
"I come from South Dakota, so this is normal," Clem Ironwing, a traveler from Wichita, said of the road conditions. "But people that don't drive in it freak themselves out, hit the brakes."
Douglas County dispatchers said emergency workers had been called to 13 accidents since noon. Four of the accidents involved injuries, but nothing major.
3:50 p.m.
And now, from the National Weather Service, comes a blizzard warning for an area that includes Douglas, Shawnee, Franklin and Jefferson counties.
The warning is in effect until 6 p.m. Friday.
Snowfall accumulations of 6 to 10 inches are possible, according to the bulletin.
I remember from my atmospheric science course at KU, though, that snowfall accumulation doesn't really matter when it comes to classifying a blizzard.
It's all about the wind speed, which is predicted to blow from the north at 35 to 40 mph.
The National Weather Service also becomes just the latest in a long line of agencies discouraging travel tonight, saying that if people choose to leave the safety of being indoors, they are putting their lives at risk.
— Andy Hyland
3:30 p.m.
The National Weather Service has canceled the Winter Storm Warning for the area and replaced it with the more serious blizzard warning. About 6-10 inches of snow accumulation is expected by Christmas morning.
That snow could be driven around by wind gusts of as much as 50 mph, with sustained winds in the 30 mph area.
The National Weather Service urges northeast Kansans not to travel after 6 p.m. Thursday. If you choose to do so, the weather service says, you are putting your life at risk.
2:45 p.m.
Both the Kansas Department of Transportation and the Kansas Division of Emergency Management are urging all Kansans — and particularly those in northeast Kansas — to suspend travel plans until Friday.
"This is an extremely dangerous situation we are facing and everyone should heed these warnings," said Kansas National Guard Maj. Gen. Tod Bunting in a release. "If you must travel, do so before 6 p.m. and plan to stay there tonight."
Weather conditions have been blamed in at least five traffic fatalities earlier this week.
KDOT officials say travel will be dangerous to nearly impossible throughout all of northeast Kansas this evening.
Perhaps no one sums up the situation better than the National Weather Service:
"Stay inside and enjoy Christmas!"
— Andy Hyland
2:15 p.m.
Gov. Mark Parkinson ordered state offices in Shawnee County closed at 2 p.m. because of worsening weather conditions.
1:15 p.m.
Emergency personnel are responding to an injury accident on the Kansas Turnpike. The accident site is about a mile west of the West Lawrence interchange. Early reports from the scene are that one person has nonlife-threatening injuries.
1:05 p.m.
Dozens of churches across Kansas have canceled Christmas Eve services because of the winter storm.
By midday Thursday, five churches in Lawrence had canceled services. Dozens of churches in the Topeka area have called off services, and about three dozen cancellations were listed by KAKE-TV in Wichita.
12:15 p.m.
Kansas University officials announced that its campus would be closing as of noon Thursday because of the weather.
Emergency employees should call in to their supervisors to see whether they need to report, said Jill Jess, a KU spokeswoman. All other offices are closed.
As freezing rain continues to hit the Lawrence and northeast Kansas area, ice is continuing to form on roads, sidewalks and other surfaces.
Tom Orzulak, city street division manager, said that street crews continued to work hard to make the roadways safe.
"We're changing shifts, getting ready to go out and do the roads again," he said.
— Andy Hyland
11:05 a.m.
Vehicles are sliding off highways and roads north and west of the Lawrence area, the Kansas Department of Transportation reports.
Translation: Be careful.
"It's coming," Kim Qualls, a department spokeswoman, said at 11 a.m. Thursday.
Douglas County dispatchers reported that roads are getting very slick. On U.S. Highway 56, a semi jack-knifed just east of Globe — or about 6 miles west of the U.S. Highway 59 intersection. The road is partially blocked. No injuries were reported.
And drivers increasingly are losing control in areas on Jefferson and Shawnee counties, as dropping temperatures are turning rain to sleet and freezing rain, Qualls said.
Snow continues to be forecast later Thursday, with blustery conditions expected into Christmas Day.
— Mark Fagan
10:15 a.m.
Using this morning's latest information, 6News meteorologist Ashley Meenen now predicts snowfall totals of 4 to 8 inches in an area that includes Lawrence, Topeka and the Kansas City area.
Meenen calls for motorists to watch out for roads that may become frozen over and treacherous as temperatures are already below freezing and will be falling throughout the day.
After rain turns over into snow in the late morning or early afternoon, Meenen says the next factor to watch for will be sustained 30 mph winds from the north.
The winds will create blowing snow that will make for poor visibility, particularly for travelers on Interstate 70 and other east-west roads.
"Pretty much, it's going to be bad all day," Meenen said.
As of 9:30 a.m., the Kansas Department of Transportation reported normal seasonal road conditions in the Lawrence, Topeka and Kansas City areas.
However, roads in some surrounding counties, including many west of Topeka and north of I-70, were beginning to become snowpacked with some ice reported.
— Andy Hyland
9:50 a.m.
The Kansas Department of Transportation says snow has begun to fall in areas of northeast Kansas. KDOT reminds drivers to be cautious the next few days and be sure to:
• Drive slowly and allow extra drive time.
• Watch for icy and slick spots on roads, and particularly on bridges.
• Ensure everyone in your vehicle uses a seatbelt.
6:53 a.m.
All Westar Energy customers in Douglas County have had their power restored.
According to Westar spokeswoman Erin La Row, crews determined the cause of the outages to be a failed insulator on one of the switches in the area's substation. The substation is where the distribution lines come in, power is converted and then sent back out to customers.
La Row said crews believed they had fixed the problem and were not expecting to experience additional outages.
6:28 a.m.
Westar Energy customers north of Sixth Street have had their power restored after nearly an hour in the dark Thursday morning. Calls to Westar Energy regarding the cause of the outages that have affected thousands of Lawrence customers since Wednesday evening have not yet been returned.
5:56 a.m.
Westar Energy is reporting another power outage affecting more than 2,300 Douglas County customers. The area affected looks to be mainly north of Sixth street just west of Iowa Street.
Temperatures this morning are still in the 30s, with a light rain possibly turning into freezing rain around the area. The winter storm warning goes into effect this afternoon and the precipitation is likely to change to snow.
4:42 a.m.
So far there hasn't been much in the way of precipitation overnight, but the forecast is predicting snow will hit the area sometime around 3 p.m. this afternoon. If you end up needing to shovel your driveway in the next couple days, please remember to do it properly.
As of 4:42 this morning there weren't any major traffic delays caused by the weather in northeast Kansas. You can check on road conditions as the storm moves in by checking LJWorld.com or the Kansas Department of Transportation.
12:53 a.m.
The winter storm warning issued by the National Weather Service will be going into effect at noon today until 6 p.m. Friday.
The National Weather Service predicts 6 to 8 inches of snow accumulation across the region as well as strong, blowing winds. Any travel is strongly discouraged while the winter storm warning is in effect.
Highway patrol troopers said the roads in parts of western Kansas are already treacherous and people in Northeast Kansas should think ahead as the weather moves this way.
"It's kind of hard to stay on the roads. You've got to go slow," said Jason Juhan, a clerk at the Love's truck stop in Goodland. "People are just trying to get through and get to where they need to as fast as they can."
Still, he saw an upside to the weather: "It's been a few years since we've actually had a white Christmas out this way."
Troopers are encouraging people not to be on the roads during the winter storm, unless they absolutely have to.
"Law enforcement will be out encouraging the public to drive safely, to slow down, to increase their following distance," said Trooper Edna Buttler, highway patrol spokeswoman. "Everyone needs to take their time and slow down and be patient and be prepared."
Emergency managers said weather was blamed for a Tuesday night accident in Thomas County that killed a couple from Fort Smith, Ark.
As more accidents pop up, Buttler encouraged drivers to move out of the way of emergency workers.
She also encouraged people to carry blankets, window washer fluid and an ice scraper in their cars, for safety.
— Jesse Fray
12:40 a.m.
Power has reportedly been restored to all but 12 Westar Energy customers in Douglas County. The cause of the outage that left thousands of Lawrence residents without power Wednesday evening and early today has still not been determined.
12:31 a.m.
Westar Energy was reporting nearly half of those without power had had it restored. The outage listing and map are now showing the numbers have climbed from about 2,600 to more than 3,000 now without power. The initial outages were reported just more than two hours ago.
Temperatures this morning continue to remain in the upper 30s.
11:35 p.m.
About 2,000 of the Westar customers without power have had it restored. That still leaves about 2,600 without power as crews continue to work to resolve the problem.
10:54 p.m.
A Westar Energy representative said crews are currently working to figure out what's going on with the power. The representative said there was no time estimate yet for when power would be restored. Residents in the area are reporting hearing a loud boom around the time of the outage.
10:35 p.m.
There are now more than 4,700 Wester Energy customers in Douglas County reporting power outages. Outages have been reported north of 6th Street and in the nearby neighborhoods. Information about the cause of the outages is not yet available.
10:23 p.m.
Westar Energy is currently reporting more than 1,300 Douglas County customers are without power. The majority of the outages are north of 6th Street.
Copyright 2018 The Lawrence Journal-World. All rights reserved. This material may not be published, broadcast, rewritten or redistributed. We strive to uphold our values for every story published.