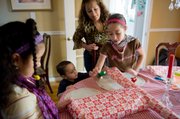 Washington — With the tough times and a son in college, Anthony Jackson says he cannot possibly afford the kind of Christmas his family once had, with gifts piled high under the tree. But then again, he can't imagine disappointing his youngest children, either.
"I'm looking at basics: shoes, underclothes, T-shirts," said his wife, Elaine, as they strolled around a shopping mall.
Not Jackson. He was thinking electronics. One $170 PSP game system for his youngest son. One $170 Nintendo DSi system for his daughter. "But one game each," he said, noting that that's much less than in the flush days, when he might have bought four or five.
So go the inevitable compromises and conflicts of the holiday as many parents strive to insulate their children from the fallout of the worst recession in decades.
"You want to give your children things; you want your children to be happy, even if you have to pay the price later," said Jackson, a government worker and father of four, who remembers when his paycheck seemed to stretch further and when fewer friends and neighbors were hurting financially.
In these final shopping days, many parents are reconciling their practical concerns with a deep desire to see delight in their children's faces Christmas morning. Spending on gifts is down, but that does not always mean children will feel the difference.
"In hard times, parents try even harder," said Steven Mintz, a history professor at Columbia University who studies childhood. He said that the impulse to shield children from family financial difficulties goes back many generations. "During the Great Depression, parents would do anything to keep their kids from feeling the hardship," he said.
This bears out in what Marshal Cohen, the chief retail analyst for NPD Group, a market research firm, sees happening in stores. Early indicators show that toys are faring a little better than most retail categories, he said, and in NPD's surveys, "parents absolutely, yes, have said that, yes, they will forgo or significantly reduce purchasing for the significant other in the family to make sure the kids do not get cutbacks."
This includes Kimberly Simmons-Griffin, 39, a Mount Rainier, Md., contract manager who made spending cuts, but not for her children. "The shopping I usually do for me, I cut back on that," she said. "Everything went to the kids this year. ... You don't want your kids to suffer. These burdens are ours, not our children's."
In many families, children have learned a little — or a lot — about the country's economic woes, including the housing bust and high unemployment rate. But many parents hope to make the holiday season a time apart from these difficult truths.
In Gaithersburg, Md., Tania Ramirez, 34, said she will not tell her children what she fears most: that this may be the last Christmas in the family's beloved townhouse.
Ramirez and her husband have not been able to make full payments on two high-interest mortgage loans since his construction-industry work hours were cut by more than half. They have fallen behind on their heating bill. The home they bought five years ago for $243,000 would sell for about half that, she said.
Still, as Christmas approaches, the mother of five focuses on the family's traditions. Her children, ages 13, 11, 9, 7 and 2, have made wish lists and written letters to Santa, saying, "I know other kids don't believe in you, Santa, but we believe in you."
Overall, holiday gift-buying is down this year, with average adult spending at $507, compared with $534 last year and $578 in 2007, according to the National Retail Federation.
Christmas and its traditions allow parents to try to create idyllic memories for their children, said Mintz, the professor. "I think the wonder and innocent joy have become that much more important to people as they have become more cynical about the economy, about companies, about politics," he said. "It's a response to the alienation they feel."
Copyright 2018 The Lawrence Journal-World. All rights reserved. This material may not be published, broadcast, rewritten or redistributed. We strive to uphold our values for every story published.