How to donate
The holidays are a perfect time to think about becoming an organ donor, said Jan Finn, chief operations officer for Midwest Transplant Network.
You can become a donor by going to the Midwest Transplant Network's Web site, www.mwtn.org, and downloading a Kansas Donor Registry form and sending it to the organization.
If you are unsure of your donor registry status, take a look at your driver's license. If the words "organ donor" and an image of a heart are on the front, you are.
If not, you can sign the back of your driver's license to notify others that you would like to donate your organs.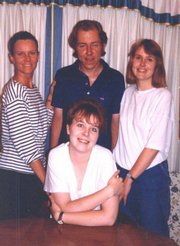 -->
In death, Carl Arentson passed on the gift of life to four men he never met.
Carl died Oct. 2. That weekend, a 49-year-old musician from the Southeast received his heart. A 61-year-old truck driver from the Midwest received Carl's liver. And Carl's kidneys went to a 16-year-old boy and a 53-year-old mail carrier.
"He would be incredibly proud of how many people he reached out and helped that weekend," said Ingrid Pearson, Carl's oldest sister. "He didn't have the opportunity to do that in his own life."
Mental illness, a developmental disability and a series of physical ailments made Carl's 45 years difficult ones.
"He had such a hard time through life that you had to start questioning — what was that all about? Why put someone on Earth if they have such a tough time their entire life?" Pearson said.
For Pearson, it's been rewarding to see her brother's life help so many.
Until moving to an assisted-living facility in Eskridge about five years ago, Carl was a lifelong resident of Lawrence and a fixture at the Lawrence Public Library.
He was a Beatles fanatic who also knew every episode of "The Andy Griffith Show" and would give the caregivers at the nursing facility tips on whom to pick in their college basketball tournament brackets, said his other sisters, Christine and Karen Arentson.
Carl was John Schmidt's "very best friend" for 32 years. The two met in junior high school and both graduated from Lawrence High School in 1983.
On the top of Schmidt's refrigerator are pictures of the two on their way to a Royals baseball game, at Worlds of Fun and celebrating Carl's 40th birthday.
"He was a very decent fellow and had a lot of great, super-neat interests," Schmidt said.
Carl also had a "scary edge" to him, Pearson said. He had trouble in social situations, could be volatile and had been arrested a time or two.
"He never fit in with this life. It was always very difficult for him," Pearson said.
At the Golden Living Center in Eskridge, Carl found stability.
"It didn't take much more than a couple of months before he realized he liked being there," said Christine Arentson, the only sister who lives in Lawrence. "He liked having his meals prepared for him and being told when to take his medicine."
As a heavy smoker, Carl developed chronic obstructive pulmonary disorder. Toward the end of his life, he used a wheelchair, needed oxygen and had about one-third the lung capacity of an average person.
This fall, Carl had a breathing attack, passed out and hit his head in the bathroom. He was without oxygen for about 20 minutes and went into cardiac arrest. While Carl was on a ventilator at the hospital, the family was approached about the possibility of organ donation.
Family members were surprised that Carl was eligible. They assumed that years of smoking and prescription drugs would have made his organs unfit. But while his lungs had failed, his heart, liver and kidneys were in great shape.
"Selfishly, I wanted some good to come out of losing Carl," his youngest sister, Karen, wrote in an e-mail. "As Carl slipped away from us, hope came rushing into the lives of other families knowing that their loved ones got another chance at living a full life."
Each year, the Midwest Transplant Network has about 200 organ donors in Kansas and the western two-thirds of Missouri. In all, they provided about 600 organs, said Jan Finn, Midwest Transplant Network's chief operations officer .
Organ donations occur when a brain has died but the rest of a person's body is still functioning, something that occurs in about 5 percent of all deaths in the country.
For many families, having a loved one's organs donated helps in finding closure, Finn said.
The Arentson family agrees.
Carl's presence will be missed during the holidays, his favorite time of year, Pearson said. Schmidt and Carl had a tradition of spending New Year's Eve together, watching the ball drop and blowing noise makers. Christine Arentson said it has been hard not to shop for him.
But there is comfort in the thought that others will be celebrating Christmas because of Carl.
"Although he can't be with you in one piece, parts of him are in other people, who are getting a better life," Christine said. "That has made the whole process easier to bear."
Copyright 2018 The Lawrence Journal-World. All rights reserved. This material may not be published, broadcast, rewritten or redistributed. We strive to uphold our values for every story published.