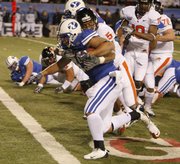 Las Vegas — Max Hall threw for 192 yards and three touchdowns in the only bowl game he knows, leading No. 15 BYU past No. 16 Oregon State, 44-20, in the Las Vegas Bowl on Tuesday night.
Hall gave the Cougars their third victory in five straight bowl appearances in the Sin City and ended the Beavers' run of five consecutive bowl victories. Oregon State appeared troubled by cold winds and the lingering sting of missing the Rose Bowl.
Hall threw a 25-yard touchdown pass to Luke Ashworth, a 17-yard scoring strike to Dennis Pitta and a 15-yard TD pass to Manase Tonga. He had 139 yards passing in the first half.
"It means a lot — it's a special time for me," Hall said. "It's something I'll remember for a long time."
The senior won for the second time in the Las Vegas Bowl in three starts.
"If Max has to be judged by one game, it should be this one," BYU coach Bronco Mendenhall said. "My hope is that if there are comments (on Hall's performance) it ought to be on the basis of this game."
Tonga added an 18-yard rushing touchdown, and Harvey Unga finished with 76 yards rushing and a TD for BYU (11-2).
Oregon State (8-5) scored on 1-yard runs by quarterback Sean Canfield and Jacquizz Rodgers, and a 31-yard pass to Damola Adeniji after the game was out of reach. Adeniji led all receivers with seven receptions for 102 yards.
Canfield completed only four passes in the first half as the Beavers struggled to sustain drives. He finished 20-for-41 for 173 yards and an interception.
"We hate leaving that opportunity out there," Oregon State coach Mike Riley said. "They controlled the ball, converted third downs and scored when they were going into that gale force, and that was very good by them."
The normally dependable Rodgers fumbled for the first time in his college career in the first quarter, on his 621st touch, and Matt Bauman returned it 34 yards for the go-ahead score.
Officials used replay to see whether Canfield's checkdown toss to Rodgers was a lateral or a forward pass and upheld the touchdown.
Oregon State finished with three turnovers, including a fumble by Rodgers' brother James.
"It took all 11 players to do what we had to do to contain those two," Mendenhall said.
The Beavers converted once on fourth down in five tries, and were 5-for-16 on third-down conversions.
Winds gusted to 50 mph at Sam Boyd Stadium, and temperatures fell to 30 degrees. The gusts were so strong that one of Oregon State's punts traveled untouched only six yards.
Copyright 2018 The Associated Press. All rights reserved. This material may not be published, broadcast, rewritten or redistributed. We strive to uphold our values for every story published.