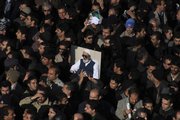 Dubai, United Arab Emarites — A huge funeral procession for Iran's most senior dissident cleric became a show of defiance against the country's rulers Monday as mourners flashed green protest colors and chanted against the Islamic leadership in Iran's holy city of Qom.
The response by authorities was not as punishing as in recent demonstrations — an apparent attempt to avoid bloodshed and chaos during the cortege for one of the patriarchs of the 1979 Islamic Revolution and the one-time heir to lead the country.
But the major outpouring for Grand Ayatollah Hossein Ali Montazeri by opposition supporters could signal a restive week ahead. Tens of thousands of demonstrators, if not more, filled the main boulevards in Qom, the hub of Islamic scholarship and study in mostly Shiite Iran.
Iran is marking one of the most important periods on the Shiite religious calendar with ceremonies that draw deeply on themes of martyrdom and sacrifice, which could inspire fresh opposition marches. It culminates on Sunday, the same day mourners will gather for the traditional seven-day memorial for Montazeri's death.
Opposition leaders have used holidays and other symbolic days in recent months for anti-government rallies. Montazeri, who died of apparent natural causes on Sunday at age 87, had stunned even hard-core protesters with his scathing denunciations of the ruling clerics and their efforts to crush dissent after the disputed presidential election in June.
His open assault on the highest reaches of the Islamic system helped galvanize the opposition and shatter taboos about criticizing the pinnacle of power: Supreme Leader Ayatollah Ali Khamenei.
On Monday, demonstrators chanted the now-familiar "Death to the Dictator" that's become a catchall slogan against Iran's leadership, witnesses said. Some protesters shouted specific slurs against Khamenei, according to video clips posted on the Web.
The witnesses spoke on condition of anonymity because of fear of arrest and the authenticity of the Web video could not be independently verified. The accounts, however, were consistent with reports from a variety of sources.
Iranian authorities barred foreign media from covering the funeral in Qom, about 60 miles south of Tehran. Communications also appeared disrupted.
Internet in Iran was slow, and cellular telephone service was unreliable. The government has periodically restricted communications in an attempt to prevent protesters from organizing.
But people had been streaming toward Qom since word of Montazeri's death began to spread.
Copyright 2018 The Associated Press. All rights reserved. This material may not be published, broadcast, rewritten or redistributed. We strive to uphold our values for every story published.