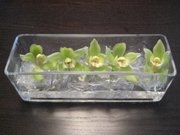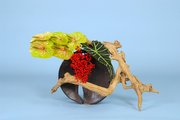 Flowers are a sure way to dress up your home for the holidays, and you don't need a lot of expensive blooms to do it. Floral stylists say this is the year when style trumps opulence.
Trish O'Sullivan, a teacher and designer at the New York Botanical Garden's Floral Design Program, advises, "recycle, reuse and reinvent. Orchids will give you the biggest bang for your buck."
Orchids may provide dozens of blossoms per stem, and beautiful varieties can be found in corner stores and supermarkets, says O'Sullivan, owner of the business Eco Design by Trish O'Sullivan.
For the holiday season, she also likes roses, especially in deep burgundy, green and pure white. She suggests floating the blossoms on beds of clear cellophane in three rectangular vases and marching them down the center of your holiday table.
This season, O'Sullivan is using lots of metallic containers and accessories with flowers for holiday parties. She suggests filling silver trumpet-shape vases (she recommends Jamaligarden.com for these and other items) with roses or carnations and placing them throughout the house.
O'Sullivan creates floral ornament balls with spheres of Oasis-style foam covered with carnations and mums, and showcases them on a glass plate surrounded by holiday greens and other ornaments.
Nancy D'Oench, author of "Flower Arranging the American Way" (Abrams, 2009), suggests limiting your color palette and massing types of floral materials and textures for a bold, contemporary look. D'Oench says she is inspired by artist Georgia O'Keefe, who said she painted her flowers big so that people would see what she saw.
"Our art," D'Oench says, "is to present flowers so that busy people will stop and really look at them and see what we see."
"Let the container be your guide," she says. "Search in consignment shops and home accessories departments of discount stores for ones that really excite you and when you find one, bring it home, set it on your kitchen counter and let it talk to you."
When decorating your holiday table, she advises, think of the colors in the room and consider using deeper shades of those colors.
Eileen Johnson, author of "The Art of Floral Arranging" (Gibbs Smith, 2007) and director of FlowerSchool New York, says the trend this year is green "both figuratively and literally." She suggests asking your florist if their flowers are Fair Trade Certified. (To learn more about the global floral industry, she recommends reading "Flower Confidential" by Amy Stewart, Algonquin, 2007.)
Johnson says there's a lot of interest this year in texture, in both flowers and containers. Containers woven from natural materials are popular, she says.
Some tips Johnson offers:
Shop foliage: Don't just look at the flowers - make sure the foliage is good. Healthy plants create good flowers.
Don't try to mix too many kinds of flowers. Think of the way flowers grow in the garden. "Keep it simple. An abundance of the same color flowers or the same types of flowers are easiest to arrange," she says.
Always remove the foliage (thorns as well) that will be below the water line in the vase.
Use clean containers; unclean containers develop bacteria.
Keep the water clean. Change it frequently, every day if possible.
Clean stems thoroughly to remove any bacteria before you arrange the flowers.
Buy flowers on the "break" - not too open, not too tight.
3 festive floral projects from Trish O'Sullivan
Floral ornament balls
Supplies:
24 to 36 green, white or red carnations or mums
Holiday greens for bedding
3-inch or 4 1/2-inch Oasis-style spheres
Directions:
Clean all leaves and cut the stems on an angle. Let the flowers drink in a bucket of room temperature water for three hours. If using carnations, let them drink overnight for full bloom. Store in a cool place.
Soak oasis spheres one hour in cool water.
Cut stems 1 1/2 inch long and start inserting them into the sphere, from its top, working toward the bottom.
Submerge the completed flower ornament in cool water for 30 seconds and drain for 15 minutes. Place it on a small glass plate and nestle in a bed of holiday greens and pine branches. For extra interest, place other holiday ornaments among the branches.
Blossoms floating in short rectangle glass vases, with bottoms lined with recycled cellophane
Supplies:
Three glass vases, 8 inches long by 4 inches wide and 4 inches high
Cymbidium orchids or roses
Directions:
Cut the flower stems on an angle. Let the flowers drink in a bucket of room-temperature water for three hours.
Collect clear cellophane from grocery packaging, or buy a new roll. Wash recycled cellophane and cut off any writing on packaging. Crinkle recycled cellophane or cut new cellophane to desired length, and insert into clean glass containers until one-quarter full from bottom.
Cover with cool water 1 inch over the top of the cellophane. Wipe the glass containers dry on the inside above the cellophane.
Cut flower stems 1/2-inch long and place gently on top of cellophane. Place one flower in the first container, two flowers in the second and three flowers in the third, or all containers with the same number of flowers.
Place in the center of the table or down the middle on a holiday-inspired runner or table linen, nestled in a bed of holiday greens and pine cones.
Stainless or aluminum containers filled with roses
Supplies:
Three containers in shape of your choice
Roses, preferably burgundy (Black Baccarat, Black Magic, Hocus Pocus or Forever Young), green (Green Tea or Super Green) or white (Avalanche or Polo)
Directions:
Cut roses on an angle and allow them to drink in a bucket of room-temperature water for three hours in a cool location.
Fill containers 3/4 full with cool water.
Cut the roses so the bottom outer petals will rest on the lip of the containers.
Place three glass candlesticks with white candles at different lengths in the center of the table. Arrange greenery (Ming fern branches recommended) around the candles. Nestle the rose-filled containers around the candles, surrounded by the greens, sprinkle with rose petals and candy canes.
Copyright 2018 The Associated Press. All rights reserved. This material may not be published, broadcast, rewritten or redistributed. We strive to uphold our values for every story published.