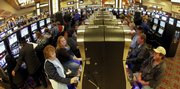 Dodge City — Within a half-hour of opening, the Boot Hill casino had a favorable omen. Carlos Quintana, a 41-year-old oil field worker, won a $1,600 slot machine jackpot, had his picture taken with an oversized check and described the place as beautiful.
Elsewhere, Kansas' experiment with state-owned slots, dice and card tables is off to a rockier start. A sluggish economy has delayed projects for the Wichita and Kansas City areas, and there's no prospective developers for a casino in southeast Kansas.
But the new southwest Kansas casino attracted hundreds of customers in just its first afternoon. Quintana made an 85-mile trip from Great Bend to Dodge City, the once-wild cowtown that later became the setting for television's classic "Gunsmoke."
Boot Hill's operators are betting that Dodge City's colorful history, the casino's location by itself on the Great Plains and its relatively small size will secure a niche in gambling. So is the state, which will claim 22 percent of the gambling revenues.
"It can definitely be a strong regional player," said David Schwartz, director of the Center for Gaming Research at the University of Nevada-Las Vegas.
Boot Hill opened last Tuesday, then started around-the-clock operations Wednesday after a ribbon-cutting ceremony with Gov. Mark Parkinson. The Kansas Lottery owns the rights to the gambling and the gambling equipment but has a contract with Boot Hill's management company to operate the casino, the only one allowed by law in the region.
Casino backers still face skepticism about whether its success automatically translates into economic growth for the area. Last year, a consultant for the state predicted that 78 percent of Boot Hill's gambling revenues would come from dollars Kansans already are spending inside the state.
"There is sense in Dodge City that the casino is going to be some sort of saving grace, that it's going to be a big engine of growth," said Art Hall, executive director of the Center for Applied Economics at Kansas University. "They're going to be disappointed."
But Ed Van Petten, the lottery's executive director, said many cars in the casino parking lot in the first days had Colorado, Nebraska, Oklahoma and Texas plates.
The casino opened with a staff of 286, and it expects to have 600 workers in 2012, after a second phase of construction that includes a 124-room hotel.
"I'd really like to see one up in our area," said Karen LaMastres, a 62-year-old Oakley resident who came 130-plus miles to Dodge City to visit family and stopped by the casino. "Everybody's going to profit."
LaMastres and other Kansas customers said having a casino in Dodge City will save them trips outside the state for entertainment.
Boot Hill expects to generate $44 million in net gambling revenues during its first year, with the state's take approaching $10 million of that. The casino hopes to average 20,000 visitors a week — or about 1 million over the next 12 months.
Boot Hill has committed to spending nearly $90 million on its complex. The first phase cost about $50 million, and Chief Executive Officer Clark Stewart said it held off on adding more gambling space and slots until it started generating revenues.
Stewart believes the casino will be profitable because it's not too large for its market. For now, it's relatively small, even for a regional casino. Its gambling floor has 20,000 square feet, 584 slots, 10 blackjack and poker tables, one roulette wheel and one craps table.
But tourism still is part of Boot Hill's equation, because of Dodge City's past and its association with "Gunsmoke."
The past includes famed lawman Wyatt Earp, who dealt faro games on the side, as well as the famed Long Branch and 17 or 18 other saloons, most with gambling in the 1870s and 1880s. The casino shares the Boot Hill name with a museum that displays gambling artifacts from the era.
The museum draws about 70,000 visitors a year, including several thousand international visitors.
Copyright 2018 The Associated Press. All rights reserved. This material may not be published, broadcast, rewritten or redistributed. We strive to uphold our values for every story published.