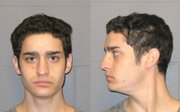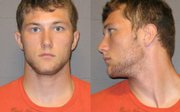 A Baker University student accused of running a marijuana-growing operation out of his Baldwin City home was sentenced to probation Tuesday in Douglas County District Court, prosecutors said.
In November, Rai Shed Abdu Yahia pleaded no contest to possession of drug paraphernalia, a felony, and possession of marijuana, a misdemeanor.
District Judge Sally Pokorny sentenced the 24-year-old man to one year probation. Under the terms of his probation, he will be required to take random drug and alcohol screenings, said Cheryl Wright, spokeswoman for District Attorney Charles Branson.
A co-defendant in the case, Alexander Abbas Fouad Farran, has applied for diversion and will be back in court Dec. 28.
Baldwin City police said they found 28 marijuana plants and grow lights in September inside the students' home in the 400 block of Eisenhower.
Copyright 2018 The Lawrence Journal-World. All rights reserved. This material may not be published, broadcast, rewritten or redistributed. We strive to uphold our values for every story published.