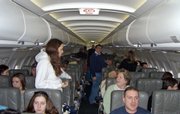 Washington — Stinky toilets, crying babies, airless cabins — the Obama administration said Monday passengers don't have to take it anymore. It ordered airlines to let people get off planes delayed on the ground after three hours.
Transportation Secretary Ray LaHood said the three-hour limit and other new regulations are meant to send an unequivocal message to airlines not to hold passengers hostage on stuck planes. Coming on the eve of the busy holiday travel season, the announcement was hailed by consumer advocates as "a Christmas miracle."
The airline industry said it will comply with the regulations — which go into effect in 120 days — but predicted the result will be more canceled flights, more inconvenience for passengers.
"The requirement of having planes return to the gates within a three-hour window or face significant fines is inconsistent with our goal of completing as many flights as possible. Lengthy tarmac delays benefit no one," said Air Transport Association President and CEO James May.
LaHood, however, dismissed that concern.
"I don't know what can be more disruptive to people than to be stuck sitting on a plane five, six, seven hours with no explanation," LaHood said at a briefing.
This year through Oct. 31, there were 864 flights with taxi out times or flight diversions of three hours or more, according to the Bureau of Transportation Statistics. Transportation officials, using 2007 and 2008 data, said there are an average of 1,500 domestic flights a year carrying about 114,000 passengers that are delayed more than three hours.
Last month, the department fined Continental Airlines, ExpressJet Airlines and Mesaba Airlines $175,000 for their roles in a nearly six-hour tarmac delay in Rochester, Minn. In August, Continental Express Flight 2816 en route to Minneapolis was diverted to Rochester because of thunderstorms. Forty-seven passengers were kept overnight in a cramped plane because Mesaba employees refused to open a gate so that they could enter the closed airport terminal.
It was the first time the department had fined an airline for actions involving a ground delay. Transportation officials made clear the case was a warning to the industry.
Under the new regulations, the only exceptions to the requirement that planes must return to the gate after three hours are for safety or security or if air traffic control advises the pilot in command that returning to the terminal would disrupt airport operations.
Homeland Security Secretary Janet Napolitano said she thought the 3-hour rule would not cause any problems for security. "I can't imagine it would. I call it the rule of common sense," she said.
Airlines could be fined $27,500 per passenger for each violation of the three-hour limit.
The regulations apply to domestic flights. U.S. carriers operating international flights departing from or arriving in the United States must specify, in advance, their own time limits for deplaning passengers. Foreign carriers do not fly between two U.S. cities and are not covered by the rules.
Copyright 2018 The Associated Press. All rights reserved. This material may not be published, broadcast, rewritten or redistributed. We strive to uphold our values for every story published.