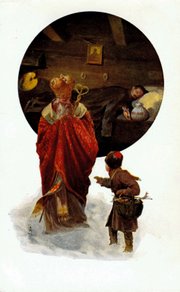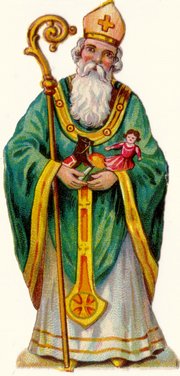 Tug off the beard of any run-of-the-mill shopping mall Santa Claus and not only will you scare any small children in the vicinity, but — spoiler alert — you won't be any closer to finding out about the real man behind jolly ol' St. Nick.
Yes, in truth, whether your shopping mall Santa can confirm it or not, there is a man whose life is the basis for our Christmastime gift-giver, though he didn't wear red velvet or rely on reindeer power to get around.
He was Nicholas of Myra, a Greek born in the third century who would spend his life doing good, taking care of the poor and presiding over his fellow Christians as a bishop.
Oh, and he gave out a few presents, too.
"He mainly was going around and helping people," says the Rev. John Schmeidler of St. John the Evangelist Church, 1229 Vt. "And that's kind of the whole notion of where St. Nick comes from — where it's kind of like (the) anonymity of someone helping another person with regards with what their needs are and seeing those needs."
Behind the beard
Carol Myers has devoted her life since 2002 to getting the word out about the true St. Nick. That's the year that Myers founded the St. Nicholas Center, a virtual emporium of the life, history and stories of Nicholas of Myra, the do-gooding Greek bishop who would become the model for Santa Claus/Kris Kringle/St. Nick.
The Holland, Mich., resident has compiled stories about Nicholas' life, archived dozens of images of him and even created a timeline of his life. Some of the legends told about old St. Nick?
• Of him giving a gift of gold to a poor man who needed dowry money for his three daughters to marry or he would be forced to sell them into slavery.
• Of his spirit rescuing an enslaved boy long after the real Nicholas' death.
• Of his dreaming of the murder of three traveling students before praying to God so hard that the students were restored to life.
• Of his prayers keeping a ship from wrecking while returning to Greece from the Holy Land.
Myers points out that while none of Nicholas' writings survive, the stories told about his life provide a glimpse into the character of the man born in Patara and who grew up to become the patron and protector to children and sailors. Faithful from around the world still visit the Basilica di San Nicola in Bari, Italy, where Nicholas' relics reside inside an large tomb reinforced by concrete.
"All of the stories show his concern for the welfare of people, particularly those most in need, or the most vulnerable: women, children and those imprisoned," Myers says. "The stories of providing grain during famine and rescuing the innocent from execution and wrong imprisonment show that his concern for justice went far beyond the sentimental gift-giving that is often associated with Santa Claus."
Schmeidler says that thinking about what people need, a la the story about the dowries, rather than what's on sale Black Friday would help modern Christians be more in line with the stories of the bishop's generosity.
"The concept should be more 'How do I see the needs of the people and how do I really help them in that need so that they can really know that God's blessings and goodness are a part of their life?'" Schmeidler says. "Sometimes regular gifts can do that, but I think what ends up happening is, 'Oh my goodness, I've got to get a gift.' And then we feel obligated to get somebody a gift and it's really transformed that whole idea of what I think the real St. Nick was about."
Keeping St. Nicholas alive
Strangely, the force most likely to derail the celebration of the real St. Nicholas is none other than ... the commercial pseudo-Nick Santa Claus.
That St. Nick is an entirely American creation, according to Myers. The Coke-bottle perfect Santa Claus with the sleigh and reindeer came in to being after the Revolutionary War and was refined by various writers and artists in New York in first half of the 19th century. These days, that jolly fat man is affecting long-held traditions and the celebration of St. Nicholas' feast day — Dec. 6 — just by parking his sleigh on the European continent.
"In much of Europe he is still seen as a bishop, wearing bishop's vestments — including a miter hat and carrying a bishop's staff or crozier," Myers says. "However, American Santa Claus has been introduced many places, threatening the traditional gift-givers."
Schmeidler says that whether you go for Nicholas of Myra or the St. Nick in the red suit, you can't go wrong with a clear-headed look at the season of giving.
"The gift-giving is not a bad idea, it just helps us to know that people are thinking about us and caring for us, but I think sometimes it gets distorted. And people take it so seriously, in fact, I know people who put themselves in debt, because they think they have to get a gift for somebody," he says. "That's not what Christmas is about, it's not about putting yourself in debt for others, it's about helping people in their needs so that they can begin to live a more full life."
Copyright 2018 The Lawrence Journal-World. All rights reserved. This material may not be published, broadcast, rewritten or redistributed. We strive to uphold our values for every story published.