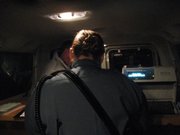 By the numbers
11 - Portable breath tests administered
3 - DUI arrests made during the RAVE
2 - Zero tolerance (.02) arrests
2 - Open container arrests
2 - Alcohol-related accidents
2 - Average number of hours it takes to process a DUI
They could drive, but they couldn't hide.
Multiple impaired drivers experienced firsthand during the weekend what the Kansas Highway Patrol's RAVE program was all about.
The RAVE, or roving aggressive violation enforcement, targeted Lawrence drivers who chose to get behind the wheel after consuming alcohol.
RAVE found three people who fit that description Saturday night and early Sunday morning.
Eight Highway Patrol troopers, including Technical Trooper Edna Buttler, scoured the streets looking to help keep the roadways safe. Buttler, an eight-year veteran of the highway patrol, has participated in RAVEs before.
"We do it for the safety of the public," Buttler said. "But it's also for the safety of the drivers we pull over."
Buttler's eyes were sharp. She spotted traffic violations from as far as a block away and kept her head on a swivel. Troopers look for traffic violations, minor and major, that might suggest a driver has been drinking. Buttler said an average night consisted of about 20 traffic stops, depending on their nature. It's a matter of numbers.
"The more people you pull over, the more likely you are to get impaired drivers off the road," Buttler said.
Buttler said during the RAVE, which is funded by the Kansas Department of Transportation, she ended up performing many of what she referred to as "catch and release" traffic stops. The stops involved issuing minimum citations and warnings to drivers who committed minor offenses, which helped her focus most of her time on locating and stopping impaired drivers.
The method proved effective Saturday when Buttler arrested a drunk driver just before 10:30 p.m.
Buttler's attention was drawn to a vehicle heading west on Sixth Street. The giveaway: the driver's headlights weren't on. She pulled the vehicle over on probable cause and after routine door-side questioning, determined the man had likely been drinking.
"When did you realize your headlights weren't on?" Buttler asked.
"As soon as I saw you pull that U-ey," the man replied.
For many DUI arrests, highway patrol troopers are able to administer tests and fill out paperwork on site, thanks to a specially equipped van called a Blood Alcohol Unit, or BAU.
Buttler used the mobile unit during her arrest. She worked patiently with the man, who in his state wasn't very cooperative. Buttler had to administer the breath test using a machine called the Intoxilyzer 8000, two separate times because the man could not hold a steady breath long enough.
Then the excuses started. The man gave multiple reasons as to why he couldn't complete the test. Smoking and cold weather were his top two choices. Buttler explained that excuses were commonplace during DUI arrests.
After more than two hours in the BAU, Buttler was finally able to verify what her observations had suggested, the man was over the legal limit, blowing above a .090. Although the process was time-consuming, Buttler said it would have likely taken longer at the jail.
"There is a lot of time and effort saved," said Technical Trooper Matt Payne, who was responsible for the BAU last Saturday. "It really streamlines the whole process."
During the weekend's RAVE, three people were arrested for driving under the influence of alcohol.
Though Buttler dealt with people in a calm and respectful manner, she said she was often on the receiving end of less-than-polite exchanges, just one part of what could sometimes feel like a thankless job.
Buttler said she doesn't let the negative exchanges get to her, but instead said she did her job thinking of the bigger picture.
"I do it for the sporadic thank you," Buttler said. "For the people who do appreciate what you're doing. I know that in the end, it's changing the course, someone is going home."
Copyright 2018 The Lawrence Journal-World. All rights reserved. This material may not be published, broadcast, rewritten or redistributed. We strive to uphold our values for every story published.