The H1N1 flu outbreak has exposed some gaps in the nation's ability to respond to public health emergencies, according to a new report.
"The country has made some important progress in preparedness over the last several years, but we are a very long way from being in a place where we can say that the United States of America is secure and safe from a wide range of major threats," said Dr. Irwin Redlener, director of the National Center for Disaster Preparedness.
The report, "Ready or Not? Protecting the Public's Health from Diseases, Disasters and Bioterriorism," was co-authored by the Trust for America's Health and the Robert Wood Johnson Foundation. It found:
Related document

Ready or Not? Protecting the Public's Health from Disease, Disasters, and Bioterrorism ( .PDF )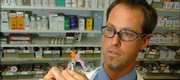 An outbreak of H1N1 Swine Flu was reported in Mexico in April 2009. By the end of May, it had spread across the U.S., with all 50 states reporting cases.
• 27 states lost funding for public health from 2007 to 2009, including Kansas.
• 13 states have only half their share of federally subsidized anti-flu drugs to stockpile for an epidemic.
• 11 states reported that they don't have enough lab staff to work the kind of hours needed during infectious disease outbreaks such as swine flu.
• Six states, including Kansas, do not track diseases through an Internet system used by the Centers for Disease Control and Prevention.
According to the Kansas Department of Health and Environment, it has finished work on such a system, which will be operable in early 2010.
Of these, the No. 1 concern is funding, said Robert Hamburg, deputy director of Trust for America's Health, a nonpartisan public health advocacy group.
"We have seen some substantial cuts in resources that truly have begun to tie the hands of local public health officials," Hamburg said.
He criticized the government for using a "Band-Aid approach" to finance emergency preparedness.
"When something bad happens whether it's an outbreak, hurricane or flood, Congress is quick to pour money to address the issue. But, that's not preventative," he said.
How Kansas did
No state met all 10 of the report's indicators used to measure their levels of preparedness. Seven states met nine of the criteria, while Montana met just three.
Kansas was among 13 states to meet six, but the Kansas Department of Health and Environment is requesting a change in the state's score because it disagrees with the report on a child care indicator.
According to the report, Kansas doesn't require all licensed child care facilities to have a multi-hazard written evacuation and relocation plan for emergencies, and verification that the laws are implemented. But, KDHE says it does.
The report also noted that Kansas health investigators identified diseases associated with food-borne outbreaks less frequently than the national average. According to KDHE, most food-borne outbreaks in Kansas involve a small number of people, which often makes it difficult to confirm the cause.
Richard Morrissey, deputy director of health for KDHE, said he doesn't believe that is a critical issue for the state.
He would rather focus attention on training efforts to handle disasters. He said health departments are struggling to provide H1N1 vaccine clinics on top of their normal programs.
"That is a challenge," Morrissey said.
Another challenge is funding. KDHE is faced with a new federal statute that requires the state to match 10 percent of federal funding in 2010 or it will lose the federal funds. So, if the state doesn't come up with $1 million, it stands to lose $11 million.
KDHE struggled this year to raise $500,000 to match the 5 percent requirement.
"We are hooking up with our partners in hospitals and local health departments to see how much of that we can come up with," Morrissey said.
Call for action
To improve preparedness, the report called for:
• Restoring money cut from public health budgets. Between 2007 and 2009, preparedness funding declined 28 percent statewide, and 36 percent in Douglas County.
"We are in a time of severe economic distress and very deep recession and the public health community and health systems, including hospitals, have truly felt the pain of this economic situation," said Redlener, of the national disaster preparedness center. "But, coping with the widespread economic distress by cutting programs and diminishing readiness has really left the country vulnerable to disasters."
• Improving vaccine production. Redlener described the production speed as "frightening."
"If this particular virus had been like the bird flu that is still circulating in Asia or the 1918 flu that was just a horrific global event, we could have had astronomically different outcomes from this current season," Redlener said.
• Increase accountability. Health departments should regularly make data available to the public to show where tax dollars are being spent and how well protected they are from health threats.
• Improve community preparedness. Health departments must do a better job of quickly educating the public, especially those most at-risk.
"We might think that things like the recent H1N1 outbreak, like Hurricane Katrina or 9/11, would be wake-up calls for politicians and key officeholders and the public," Redlener said. "Unfortunately, events like that are too often more like a snooze alarm. We get aroused, we spend money and we then just drift back into a state of complacency."
Copyright 2018 The Lawrence Journal-World. All rights reserved. This material may not be published, broadcast, rewritten or redistributed. We strive to uphold our values for every story published.