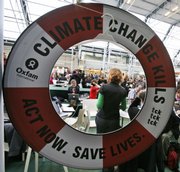 Copenhagen — The success of the U.N. climate conference hung in the balance Tuesday as China and the U.S. deadlocked over whether Beijing will allow the world to check its books and verify promised cuts in greenhouse gas emissions.
Princes, presidents and premiers crowded into a vast hall for the formal opening of the largest summit ever held on climate change, but attention was on the leaders of the world's two largest polluters — President Barack Obama and Prime Minister Wen Jiabao — who plan to arrive for the final days of talks on a framework to control heat-trapping gases.
Negotiators who have been working for 10 days floated new draft documents on lesser issues. But they left open the vexing questions of emissions targets for industrial countries, billions of dollars a year in funding for poor countries to contend with global warming, and verifying the actions of emerging powers like China to ensure they keep their promises.
"In these very hours, we are balancing between success and failure," said conference president Connie Hedegaard of Denmark. Success is possible, she said, "but I must also warn you: We can fail — probably without anyone really wanting it so, but because we spent too much time on posturing, on repeating positions, on formalities."
The rest of the 115 leaders were expected to arrive before Friday's summit finale to sign a political outline of a global warming treaty that would set limits on carbon dioxide pollution by the United States, China, India as well as extending emissions targets for the 37 countries regulated under the 1997 Kyoto Protocol.
"There is no understatement that with your signatures you will write our future," Britain's Prince Charles told the conference.
As the conference headed into the final stretch, delegates were disheartened that so many large and small issues remained unresolved, with prospects for a meaningful agreement receding.
Prodipto Ghosh, a member of the Indian delegation, said the negotiations were "not going good" and that fundamental differences between rich and poor nations would be "difficult to bridge" by the end of the week.
Experienced negotiators recall many previous conferences where the deal was done in the final overnight session, against all odds.
Secretary of State Hillary Rodham Clinton was coming Thursday to hold a round of private consultations in preparation for Obama's arrival a day later, said an official in Washington, speaking on condition of anonymity because the trip has not been formally announced.
U.N. Secretary-General Ban Ki-moon said he was positive about a deal but also expressed frustration with the progress to date.
"I'm afraid that negotiations have been too slow," Ban said. "I think all the countries can and must do more."
Political and entertainment celebrities crowded onto the Copenhagen stage, followed by a trail of cameras: California Gov. Arnold Schwarzenegger, New York Mayor Michael Bloomberg, former Vice President Al Gore and actor-activist Darryl Hannah. Zimbabwean President Robert Mugabe came, exempted from a European travel ban because he was attending an international conference. British Prime Minister Gordon Brown arrived, saying he could act as a broker in the talks.
Copyright 2018 The Associated Press. All rights reserved. This material may not be published, broadcast, rewritten or redistributed. We strive to uphold our values for every story published.