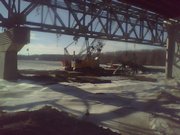 The crane didn't work. A barge didn't help. And a bulldozer certainly couldn't budge the 250 tons of steel submerged in the Kansas River.
So Rex Fleming's contractors are calling in a bigger bulldozer.
An early visit from a generous ol' St. Nick wouldn't hurt, either.
"All I want for pre-Christmas is to get that steel out of there," said Fleming, project engineer for the Kansas Turnpike Authority's ongoing $130 million overhaul in Lawrence. "Hopefully we can get it out by Christmas."
The old KTA bridge's steel supports had been expected to be pulled from the river hours after last Friday morning's blast, but complications soon emerged — starting with much of the 28-foot-tall sections remaining submerged in 25-foot-deep water.
While the steel isn't exactly frozen in the river, it may as well be: Fleming figures there's a "suction" effect at work at the river bottom, with sand and other sediment likely piling up even as water continues to flow up above.
"It went down and got stuck in there tighter than they thought it would," Fleming said.
Initial plans to blast more steel of the old bridge this week are on hold.
If the next blast can't be accomplished by early Dec. 23, Fleming said, the event likely would be scheduled for the following week.
"I'm not interested in blasting after Wednesday morning (Dec. 23), because of the holiday traffic," Fleming said. "This has frustrated me a little bit here."
Copyright 2018 The Lawrence Journal-World. All rights reserved. This material may not be published, broadcast, rewritten or redistributed. We strive to uphold our values for every story published.