Topeka — The state budget situation is getting worse, officials said Tuesday.
Even after five rounds of budget cuts -- cuts that have led to layoffs, shuttered prison facilities, longer waiting lists for health care services, and a wide-range of reductions in education -- the state will still face a $359 million general revenue shortfall, or 6.5 percent, in the next fiscal year, officials said.
"We face a very difficult budget," said Gov. Mark Parkinson's budget director Duane Goossen. The 2010 legislative session starts in January.
The looming shortfall is due to the fact that caseloads are increasing for Medicaid services, the state will have to resume paying principal on debt service, and there is less federal stimulus funding available. State government has suffered an unprecedented two consecutive years of dropping revenue, and projections show that that fall could continue two more years.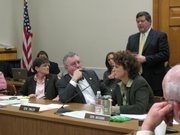 "It's going to be devastating," said state Sen. Janis Lee, D-Kensington, and a member of the Senate Ways and Means Committee, which was getting briefed on the state's financial situation.
Lee said she is hearing that after Parkinson's recent 10 percent cut to Medicaid some nursing homes have said they won't accept anymore Medicaid clients.
Goossen said some physicians may decide not to accept Medicaid patients too.
"Every one of these cuts has consequences," he said. "They are deeper than anyone wishes that we need to go. The results from doing this are not positive things; they are almost entirely negative things."
9:37 a.m.
U.S. Sen. Sam Brownback, R-Kan., will be one of the speakers on a live video "PrayerCast" to oppose health care reform being debated in Congress.
The event is sponsored by the Family Research Council and will take place at 7:30 p.m. Wednesday.
The organization says, "During the Webcast, you will hear the latest on the threats to the God-given right to human life through government funding of abortions, our health from rationing, our family finances from higher taxes, and our general freedom posed by the government plan to take over healthcare."
In addition to Brownback, FRC says its speakers include: Tony Perkins, president of Family Research Council Action; Lou Engle, founder and president of The Call to Conscience; U.S. Sen. Jim DeMint, R-S.C.; U.S. Reps. Randy Forbes, R-Va.; Michele Bachmann, R-Minn.; Bishop Harry Jackson, president of High Impact Leadership Coalition; and Pastor Jim Garlow, Skyline Church.
Copyright 2017 The Lawrence Journal-World. All rights reserved. This material may not be published, broadcast, rewritten or redistributed. We strive to uphold our values for every story published.