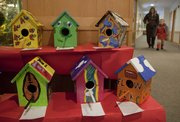 Nine-year-old Nora Hause is learning some sound business lessons about selling birdhouses.
Nora and 27 of her classmates in the after-school program at Kansas University's Hilltop Child Development Center have made birdhouses, which are being auctioned through Thursday at the center.
Nora wants to maximize profit for the auction, and she knows what sells.
While she said the paintings on her birdhouse are a little "random," there was one thing that had to be on this year's model.
"I had sheep (on the birdhouse) last year, and it sold really well. So I put sheep on this year," she said of her birdhouse, which had a $25 bid as of last Friday.
The bids add up, and project coordinator and center teacher Mike Pisani said he expects the birdhouses to make more than $700 this year.
Pisani came up with the birdhouse idea four years ago, and he said the project is fun for the students and teaches them the value of helping others. And like Nora, the children gain a little business savvy.
"It's a lesson on charity, and a little lesson on marketing," said Pisani, who has worked at the center since 1990.
The money goes toward the Hilltop Adoption Board, which benefits center families, who are KU staff and students. Families struggling this time of year can sign up, and the money goes toward gift certificates to help with whatever the families need: clothing, food and other items.
Pisani actually assembles the birdhouses, and the children handle the sanding, drilling and painting. Pisani also makes a birdhouse each year of a KU building or structure. Last year he made the Campanile, and this year he made one of Spooner Hall.
The bidding on the birdhouses is open to the public and bids can be placed at the center, 1605 Irving Hill Road on campus.
But for those looking for a birdhouse with sheep on it, beware, as the bidding for Nora's birdhouse is a stiff family competition.
"My parents like to bid against each other," Nora said.
Copyright 2018 The Lawrence Journal-World. All rights reserved. This material may not be published, broadcast, rewritten or redistributed. We strive to uphold our values for every story published.