Turner Gill: A new era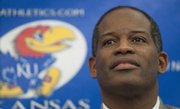 Turner Gill was named the head coach of the Kansas football team Sunday, December 15, 2009.
Photo Gallery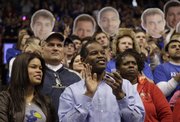 KU meets Turner Gill
KU Athletic Director Lew Perkins introduced Turner Gill as the new football coach at KU Monday morning.
They're all pretty much the same, you know.
Introductory news conferences inevitably contain bubbly remarks about the new hire, glowing optimism from the new man and a smattering of enamored boosters scattered among the media cameras and tape recorders.
So it was Monday when Turner Gill was introduced as Kansas University's newest football coach.
This was the ninth time I've attended a media session introducing a new KU football coach, and it never ceases to amaze me the euphoria a fresh face generates.
Everyone believes this is THE guy. This is the man who will turn the KU football roller-coaster into a motor speedway. This is the fellow who will transform the Jayhawks into a gridiron dynasty.
The flame has been rekindled. Just because no one ever has done it before doesn't mean it can't happen. On Mount Oread, Potter Lake is always half-full, never half-empty.
Meanwhile, those of us who have watched the Kansas football Mamba closely over the years can't help but notice how a trend has developed involving the make-up of the designee.
No need to go way back, so let's start with Bob Valesente, who headed the program in the late 1980s.
Valesente was a nice guy, a man who knew football, but didn't realize the importance of recruiting. And when, after two years, it was clear the program was tanking, they said Valesente was too soft, that the Jayhawks needed a tough guy.
They secured one in Glen Mason, an Ohio State alumnus who had played under the legendary Woody Hayes and coached just like him. No one ever accused Mason of being too soft. Mason was no Rebecca of Sunnybrook Farm.
When Mason left for a parallel position at Minnesota, few people around here wrung their hands in dismay. Mason's gruff act had worn thin, and thus it was deemed appropriate to bring in another nice guy.
Enter Terry Allen, who immediately wowed everyone with his friendliness and charm. Wife Lynn was dynamite, too. Both became involved in community affairs and were beloved among the gentry.
Allen had been a success at Northern Iowa, but it soon became apparent he had climbed one level too high. The highly competitive, money-driven Big 12 Conference basically chewed Allen up and spit him out.
Time for another tough guy. Enter Mark Mangino, a man without head-coaching experience, but one who knew the Big 12 and, after a couple of lean years using Allen's talent, guided KU to the Promised Land — the magical 12-1 season in 2007.
But, like so many other KU coaches before him, Mangino couldn't sustain the excellence and was forced to resign amid allegations he had treated his players like they were Marine Corps recruits.
In essence, though, Mangino simply had worn out his welcome.
Now, not surprisingly, the pendulum has swung to another good guy, a man of high character and impeccable moral values — the quintessential players' coach.
Turner Gill says he wants to stay on the Kansas sideline for 15 to 20 years. More power to him. Who's to say he won't? All that stands in his way is history.
Copyright 2018 The Lawrence Journal-World. All rights reserved. This material may not be published, broadcast, rewritten or redistributed. We strive to uphold our values for every story published.