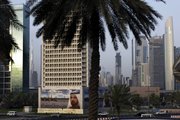 Dubai, United Arab Emarites — Oil-rich Abu Dhabi pumped $10 billion into its indebted neighbor Monday, sending stocks soaring while sparing Dubai and the rest of the Emirates federation the humiliation of an imminent default by one of the struggling Arab boomtown's star companies.
The bailout was about more than petrodollar transfers from one United Arab Emirates sheikdom to the other. Dubai officials seized on the news to try to repair damage done by weeks of uncertainty stemming from their unwillingness to fully stand behind Dubai World as the conglomerate looked to restructure some of its $60 billion in debts.
Investors cheered Monday's news. Dubai's main index shot up 10.4 percent at the close and markets elsewhere rose modestly.
Prior to the crisis, most investors had assumed the Dubai government itself, possibly with Abu Dhabi's help, would guarantee debts amassed by its chief growth engine.
Dubai authorities are scrambling to reshape the business hub's battered image, vowing that the city-state is committed to "transparency, good governance and market principles." Officials outlined a new legal framework that promised to increase openness and protect creditors in future dealings with the conglomerate, offering lenders succor in a country where formal bankruptcy proceedings are largely untested.
"We are here today to reassure investors, financial and trade creditors, employees and our citizens that our government will act at all times in accordance with market principles and internationally accepted business practices," Sheik Ahmed bin Saeed Al Maktoum, chairman of the Dubai supreme fiscal committee, said in a statement.
Some $4.1 billion of the funds released Monday will go toward meeting a deadline to repay Islamic bonds issued by Dubai World's Nakheel property arm. The conglomerate, whose sprawling holdings range from the ocean liner Queen Elizabeth 2 to luxury retailer Barney's New York, will use the rest.
The move, however, carries broader implications as UAE officials have looked to assure the market the country's economy was on solid ground.
Their assurances gave voice to a silent concern that the whole country would be hit by the same investor mistrust that Dubai now faces.
The bailout bought Dubai, itself saddled with more than $80 billion in debts including Dubai World's, time it desperately needs.
"This is a very significant development," said Marios Maratheftis, head of regional research at Standard Chartered Bank. "It shows once again there is a one-country approach in dealing with the crisis, which is positive."
But it was unclear if the news — assurances and funding alike — would prove to be more than a temporary salve.
Standard & Poor's, which along with other credit rating agencies has aggressively cut its outlook on Dubai state-run companies, called Monday's move "a step towards rebuilding confidence." But it warned that the government's ability to bail out other firms remains uncertain.
Abu Dhabi, which controls the UAE's presidency, has directly and indirectly provided Dubai with $25 billion over the past year, mostly by buying Dubai bonds.
Copyright 2018 The Associated Press. All rights reserved. This material may not be published, broadcast, rewritten or redistributed. We strive to uphold our values for every story published.