Turner Gill: A new era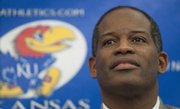 Turner Gill was named the head coach of the Kansas football team Sunday, December 15, 2009.
Photo Gallery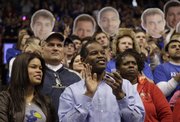 KU meets Turner Gill
KU Athletic Director Lew Perkins introduced Turner Gill as the new football coach at KU Monday morning.
Newly named Kansas University football coach Turner Gill has not been a head coach for very long. But, even with just four years at the University at Buffalo behind him, it seems that installing a top-notch staff around him will not be a problem.
"The staff that will be here at KU will be second to none," Gill said Monday, during a 30-minute meeting with the media in which he was officially introduced by the KU administration as the school's ninth head coach since 1967. "(When) hiring a coaching staff, I want people who have a proven record on and off the football field."
There's no arguing with the impressive track record of the first few members of his staff, as Gill has named Chuck Long his offensive coordinator and veteran defensive assistant Carl Torbush as his defensive coordinator. Long and Torbush come to Kansas with head-coaching experience and have had decorated days as assistant coaches.
"It's great that these two guys have been former head coaches," Gill said. "And I think there are some special things that can take place here."
Gill, who finished fourth in the Heisman Trophy voting at Nebraska in 1983, said he had been a long-time admirer of both men.
"Our offensive coordinator will be Chuck Long," said Gill of the man who replaced Mark Mangino as the offensive coordinator at Oklahoma from 2002-05. "I could go on and on about his accolades but I want to mention just a few of them. He's coached a Heisman Trophy winner (OU's Jason White, 2003), he's coached a Maxwell Award winner (White, 2004), an O'Brien Award winner (White, 2003 and 2004). At Oklahoma, when he was the offensive coordinator, he set many, many records. He's also passionate about teaching young men about life with football and teaching young men life after football."
Long, a former University of Iowa quarterback and runner-up to Bo Jackson for the 1985 Heisman, was present at Gill's introduction. He stood proudly as Gill unveiled the blueprint for the future of KU football. He admitted afterward that he decided to attend only because he was invited — and encouraged — by Gill.
"This is Turner Gill's day, as it should be," Long said. "He called me up and said, 'Hey, do you want to come to the press conference? I'd love for you to come.' That's the kind of guy he is: very humble. I said I would love to come. I didn't hesitate to get on a plane. It says a lot about him and his humility because a lot of coaches wouldn't do that."
As for Torbush, a veteran college coach with various stops since 1975, Gill said he was drawn to Torbush's experience and character.
"He's been a defensive coordinator in the ACC, he's been a defensive coordinator in the SEC, he's been in the Big 12 and, again, he's passionate about being able to teach young men the things that we're going to want to do here," Gill said. "These two guys, there's a lot of commonality, and they want to have a lot of the same things done as I do when it comes to our student-athletes, and that was really important to me, more than the X's and O's."
The only other member of Gill's staff announced Monday was Aaron Stamn, a former Nebraska assistant who coached with Gill during all four of his seasons at Buffalo. Stamn will be the special-teams coordinator and will coach tight ends at KU.
It remains to be seen if Gill will request the services of any former Jayhawk assistants. Gill said Monday he was interested in talking with members of Mangino's staff, but did not divulge whether he planned to bring any aboard.
"There's going to be a couple of guys here that I'll interview," Gill said. "I've just gotta try to see how it all fits with what I'm trying to do with the staff."
Likely candidates to catch Gill's eye include former defensive coordinator and longtime Jayhawk Clint Bowen, former co-defensive coordinator Bill Miller and former wide-receivers coach David Beaty. Those three were named interim head coaches for the days following Mangino's resignation.
A handful of current KU players attended Monday's news conference and, afterward, several of them shared their thoughts about their new head coach. Junior defensive back Chris Harris said he was thrilled that his squad finally had a coach again. He also threw in his support for some of his former coaches.
"I hope quite a few coaches stay around because we've already built a lot of great relationships with them, and there are a lot of great coaches on the staff we've had," Harris said. "Having some of the same coaches around would definitely make the team more comfortable and make the transition a lot easier. I think that would definitely help us when it's time to strap it on."
Copyright 2018 The Lawrence Journal-World. All rights reserved. This material may not be published, broadcast, rewritten or redistributed. We strive to uphold our values for every story published.