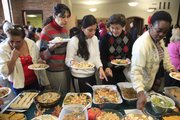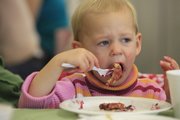 Volunteer with Small World
Small World needs substitutes and help with classes and testing. Contact Kathy Mulinazzi at 841-3645 or e-mail her at kathymulinazzi@aol.com for position descriptions and additional information.
Every Tuesday morning, women gather at First Presbyterian Church, 2415 Clinton Parkway, to talk.
They talk about culture and tradition, husbands and sick babies. They learn new words and ask questions. What do city commissioners do? Or, what's an American election like?
The women are a part of a group called Small World, a nonprofit program operated by volunteers.
India. Nepal. Poland. Iran. Indonesia. A diverse set of countries is represented. The program works to welcome female immigrants to America by providing a place to learn English and study American culture, as well as a place to share international culture while making friends.
"It gives us a good chance to speak and improve pronunciation skills," says Reema Sajeev, from India. "And before I came to Small World, I had no friends. Now I have lots of friends from all over the world."
Sajeev came to the United States with her husband, who is earning a doctorate in computer engineering at Kansas University. Since coming to the United States, she's lived in Texas, Ohio and Tennessee. But it wasn't until Sajeev came to Kansas that she found a program like Small World.
New clients, new needs
Small World has been around since 1968, but its initial intent has evolved. In the late 1960s, the founders of Small World — spouses of KU professors — wanted to help international women adjust to American life.
Early activities centered on strengthening homemaking skills. Members took classes in sewing, cooking, knitting, crocheting and craft making. They could learn English, but language classes weren't as essential to the program as they are today.
A trend that still remains true today, though, is that most early members were wives of KU students.
Kyung Hwang of Korea is raising four children, ages 3, 6, 7 and 10, while her husband studies aerospace.
"This program has really helped me by giving me a break," Hwang says. "The baby-sitting services give me an escape from my children, while letting me learn English and meet other women."
On Tuesday mornings, Small World offers a daycare service, relieving women from their role as a parent for two hours, so they can focus on learning English. Mastering the language, at least enough to pass a verbal and written fluency test, is the reason most members start going.
Isbelia Sanguine, of Venezuela, saw Small World as a way to relearn English. In the 1960s, she knew it well. Back then, she and her husband lived in Lawrence and attended KU. She was in the master's program for counseling and guidance. But, in 1967, Sanguine returned to Venezuela where she lived until her children left for college.
Six years ago, at Sanguine's urging, her son and daughter decided to leave Venezuela to enroll at KU. Sanguine had fell in love with Lawrence in the '60s, and she suggested her children at least try it out. Both did and enjoyed it.
In 2003, Sanguine's son asked his mom to move back to Kansas to help care for his children. She agreed. But more than 20 years of speaking Spanish had mangled her English vocabulary. She had to relearn the language once she returned to Lawrence. Small World helped her do it.
"The teachers make you repeat and repeat until you get the right pronunciation," Sanguine says.
Sanguine has studied several languages. She spent three years in France and spoke French fluently. She also knows some Italian. But through all of her exposure to languages and language teachers, Sanguine attests that Kathy Mulinazzi, Small World director, is the best.
"She is the best language teacher I've ever had," Sanguine says. "She makes you understand the pronunciation, makes you repeat the word until you find the right way."
Teacher and student
Mulinazzi learned about the program in the early '80s. She was a Girl Scout leader, and her troop was getting ready for an in-gathering. (An in-gathering is where troops learn about a country, then teach what they learn to everyone else.) Assigned South Korea, Mulinazzi thought having a primary source would be effective. She decided to have a Korean woman talk to her troop and answer questions afterward.
A friend led Mulinazzi to Small World, where she met with a Korean immigrant.
"The girls in my troop were thrilled to have someone from South Korea visit them," Mulinazzi says. "The women brought coins, currency, stamps, pictures, maps, artifacts and a flag. The girls were fascinated with everything they learned about South Korea."
The in-gathering made an impact on Mulinazzi, drawing her interest toward Small World.
"By 1983 all of my children were in school, so I joined Small World as a volunteer teacher," Mulinazzi says.
She's been helping adult students learn English ever since. Students like Sanguine who started going to Small World to learn English have stayed for a different reason.
"It was a wonderful experience from the very first day. So interesting, so warm, so friendly," Sanguine says. "They make you feel — they make you feel like you are among family."
Copyright 2018 The Lawrence Journal-World. All rights reserved. This material may not be published, broadcast, rewritten or redistributed. We strive to uphold our values for every story published.