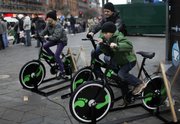 Copenhagen — As police cracked down on climate protesters, church bells tolled 350 times Sunday to impress on the U.N. global warming conference a number that is gaining a following, but is also awash in contradictions.
Conference negotiators went behind closed doors in talks to pin down an elusive new pact on climate, talks in which the figure 350 looms as a goal for true believers, but one that appears impossible based on progress so far.
It refers to 350 parts per million of carbon dioxide in the atmosphere, the highest concentration that some leading scientists say the world can handle without sparking dangerous climate effects.
"It's the most important number in the world," said Bill McKibben, founder of the environmental activist group 350.org. "It's the line between habitability on this planet and a really, really desolate future."
Not everyone buys into that. But an entire environmental group has sprung up around the number, pushing 350 as a goal, sporting it on T-shirts and flags waved by throngs of protesters that marched to the conference center over the weekend. About 100 nations at the U.N. climate summit have signed on to the idea of heading for 350.
Actually, the world has lived with more than 350 for a while.
The last time the Earth had 350 ppm of carbon dioxide in the air was a generation ago, in the fall of 1989. This year CO2 pushed over the 390 level. When scientists started measuring carbon dioxide in 1958 it was 315.
Since the atmosphere passed the 350 level, ice sheets have been melting and other dramatic changes have been happening.
Prominent scientists — notably NASA's James Hansen, one of the earliest to warn about global warming, and Rajendra Pachauri, head of the Intergovernmental Panel on Climate Change — have said 350 is the only safe level of carbon dioxide in the air.
Still, many economists, political leaders, and even some scientists believe that the worst effects of global warming can be avoided even with less stringent actions.
But there is general agreement among negotiators and climate scientists that continued global warming will lead to dramatic changes that mean more widespread drought in some regions, greater flooding along coastlines, stronger storms and the loss of species.
On Sunday, hundreds of churches around the world had signed up to ring bells at 3:50 p.m. in their respective time zones.
"It was an incredibly powerful moment and to know that there are bells ringing all over Europe, up to Greenland, down into the south Pacific and every corner of the planet," McKibben said moments after the bells stopped ringing in Copenhagen.
As they tolled, more than 40 government environment chiefs and other high-level negotiators were meeting at the Danish Foreign Ministry. They were trying to bridge the gap between their positions in informal talks before the second and last week of negotiations gets under way.
The week will end with the arrival of President Barack Obama and more than 100 other national leaders for the final hours of negotiation.
Sharp divisions remain between rich and poor countries on greenhouse emissions cuts and financing for developing nations to deal with climate change and shift to cleaner energy.
"I think there was recognition around the table of the urgency of what we need to achieve in the coming days," Britain's Climate Change Secretary Ed Miliband said after Sunday's talks. "I think there needs to be more movement from everyone, more imagination, and I think we will all be striving for that."
Copyright 2018 The Associated Press. All rights reserved. This material may not be published, broadcast, rewritten or redistributed. We strive to uphold our values for every story published.