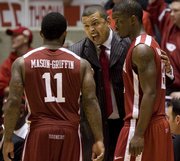 Oklahoma 78, Utah 73, OT
Salt Lake City — By overtime, Willie Warren was exhausted. He'd been knocked to the floor nearly a dozen times. His shot wasn't falling and a hostile crowd was on its feet.
But the sophomore guard summoned the will to score on a drive and then hit a three-pointer for five of his 27 points as Oklahoma defeated Utah in overtime Saturday.
"We have been working on toughness. That's our motto this year, and tonight we showed it," Warren said. "We were tired at the end, but we sucked it up and won."
His biggest shot was a 26-foot three-pointer in OT that gave Oklahoma a 74-71 lead.
No. 2 Texas 87, Texas State 54
Austin, Texas — Damion James got his 40th career double-double with 21 points and 16 rebounds to lead Texas.
Avery Bradley added 15 points for Texas (8-0).
New Mexico 84, No. 16 Texas A&M; 81
Houston — Roman Martinez scored 22 points, including two free throws in the final seconds, to lead New Mexico over Texas A&M; (8-2).
New Mexico is 10-0 for the first time since the 1995-96 season.
Kansas State 95, No. 18 UNLV 80
Las Vegas — Jacob Pullen hit seven three-pointers and scored 28 points, and Kansas State rolled over UNLV.
Pullen was 7-of-10 from beyond the arc and finished 10-of-16 from the field, as the Wildcats shot 57 percent (28 of 49) while winning their sixth straight.
Denis Clemente added 22 points and nine assists for the Wildcats (9-1).
Missouri 87, Fairleigh Dickinson 36
Columbia, Mo. — Kim English had a game-high 20 points to lead Missouri.
Eleven of English's points came in the first 31⁄2 minutes of the game. The victory pushed Missouri's home winning streak to 24 games.
Nebraska 50, Oregon State 44
Lincoln, Neb. — Ryan Anderson had 16 points and 14 rebounds to lead Nebraska, which survived a scoring drought down the stretch Saturday night to hold off Oregon State.
Nebraska (7-2) hit its last field goal with 6:53 remaining and scored its final five points from the free-throw line, including two each from Lance Jeter and Anderson in the final minute to seal the win.
Copyright 2018 The Associated Press. All rights reserved. This material may not be published, broadcast, rewritten or redistributed. We strive to uphold our values for every story published.