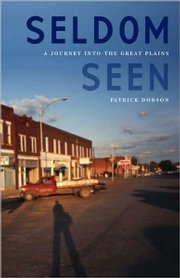 Surely it's happened to all of us.
A breeze strikes just right; a smell stirs the senses.
Suddenly, you want to quit your job and walk to Montana.
That's what happened to Patrick Dobson on an otherwise uneventful spring day in May 1994. Dobson - then 32 years of age with a 3-year-old daughter - walked out the loading dock of his soul-malnourished job performing routine maintenance at the Ritz-Carlton Hotel in Kansas City, Mo.
"Something broke," Dobson recalls. "You could almost hear it, like a spring being wound too tightly. I felt trapped. I felt stifled ... I went home that afternoon and something struck me: I'm going to walk."
A year later, he strapped on a backpack and hit the road. For the next several months, Dobson experienced the Great Plains with the eye of a journalist and the spirit of an adventurer. He sought out the "Seldom Seen" folks who now populate the pages of his first novel, published last month by University of Nebraska Press.
"This isn't anything extraordinary - hundreds of people walk across the country every year - but it was extraordinary for me," Dobson says. "It really was the best decision I made in my life."
Past Event
When: Wednesday, December 16, 2009, 7 p.m.
Where: Lawrence Public Library, 707 Vermont St., Lawrence
Cost: Free
-->
-->
No small feet
"Seldom Seen" is a memoir of sorts, though Dobson is a fellow who clearly has a lot of living left to do. These days, he splits his time between pursuing his doctorate in American literature and environmental history at the University of Missouri-Kansas City and erecting bridges and buildings with the KC Ironworkers Union. Oh yeah, and he's also a bona fide author now.
"This is like my dream from my childhood," Dobson beams. "I'm not sure that there's an entrepreneurial bone in my entire family. I was taught to get a job, settle in and do what's right. I always wanted to be a writer, but I never had any confidence."
When Dobson stepped off his front porch 15 years ago (he initially chickened out and returned home that night), he didn't intend to write a book. His primary goal was to follow fate's whims and experience the land via the people and situations he encountered. He allowed himself to accept car rides, but only for the length of a day's walk (20-30 miles).
Not once did he consider taking a bike.
"There's something about a machine that stands in the way of spontaneous relationships on the road," Dobson says. "If you're walking, there's nothing stopping people from asking you if you want a ride and lunch."
Dobson downplays the technical challenges of his feat - er, feet - in "Seldom Seen," instead weaving a narrative based on vibrant characters who simultaneously rebel against and coexist with the forgotten towns they inhabit. He connects with an ornery Christian conservative, a man with a van full of cats, a retired circus carny, a homeless Native American man, undocumented immigrants and a bunch of guys named Jim.
Along the way, Dobson witnesses the economic decline of small-town America - and the resilience of its inhabitants.
"We say we love small towns in America, but we really don't," he says. "Our economic and social decisions really put these places on the edge of falling apart. All of the reasons that those towns are out there are disappearing. There's just not enough economy to sustain them."
Another theme that emerges is the importance of paying attention to the extraordinary aspects of life that might seem ordinary. Dobson found that skill to be sadly squandered when he spent some time with a family in Laramie, Wyo., whom he describes as "absolutely miserable."
"They felt that their lives were closed in," he says. "I'm looking out the front door of this woman's house and there are mountains everywhere. They could just go wander around."
"In the same way, we don't appreciate what we have here (in Kansas) sometimes: four seasons and being able to grow anything."
Like father like daughter
One of Dobson's most difficult decisions in embarking on his trip was leaving his 3-year-old daughter Sydney behind for three months (her mother picked up the slack, but was none too happy about it).
"I remember him calling and crying over the phone," recalls Sydney, now 18 and attending college at Metropolitan Community College-Penn Valley in Kansas City, Mo.
"I think if he hadn't gone on the trip, I probably would have been raised very differently," she adds. "He came to understand himself more and become a better father."
Dobson's adventurous spirit rubbed off on Sydney during frequent family camping trips to national parks and random destinations along the way. When an opportunity arose for Sydney to study stained glass in Germany last summer, her dad was in no position to be a party pooper.
"He encouraged me to go on my own, even though I was really scared," Sydney says.
"I remember him getting his manuscript back from the publisher and he was jumping up and down in the kitchen. He's been working on this book pretty much my whole life."
Seen and also heard
As imposing as Dobson's trip was, his journey to publishing "Seldom Seen" was equally unpredictable.
"People kept telling me, 'You can write a book about this,' and I was like, 'Nah, nobody wants to hear about it,'" he says. "When I sat down to do it, it came out in fits and starts. I couldn't get anything written, or I'd write something and it wasn't right."
He finally drafted a version in 2001, drawing from his trip notes (he kept a tight journal schedule) and columns he wrote for the alternative newspaper Pitch Weekly. After a number of "heartbreaks and disappointments" with traditional publishers and agents, he decided to submit his manuscript to six university presses.
"Most of the time publishers won't even look at unsolicited manuscripts, but university presses will," he says.
The University of Nebraska bit, and after several reviews and rewrites, "Seldom Seen" came into focus.
"I sent them a big pile of words, and the editors and reviewers helped me to find the story." he says. "When the book arrived, it was like, 'OK, now the work begins.' That's something I'm familiar with. I like laboring."
Though Dobson is visibly excited by the prospect of sharing his story and making new connections, he admits he has absolutely no idea how to promote a book.
"All I know is that it's not like in the movies, where someone's sitting at a table and there's a long line of people," he says. "I also don't want to do the 'Spinal Tap' thing, where you're sitting in an empty store waiting for someone to come in. You can feel like a used-car salesman out there trying to hawk your books."
Instead, Dobson is directing his energies toward appearances at small, supportive independent bookstores and engagements like his lecture Wednesday at the Lawrence Public Library (a chapter of his book takes place in Lawrence). He'll share stories that didn't make it to the book at well as his experience getting published.
That is, if he doesn't walk out in the middle of it and hit the road for New York City.
Copyright 2018 The Lawrence Journal-World. All rights reserved. This material may not be published, broadcast, rewritten or redistributed. We strive to uphold our values for every story published.