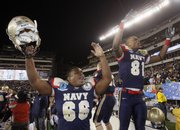 Philadelphia — Navy has made sports' most patriotic rivalry a lopsided one. The Mids beat Army, 17-3, on Saturday for their eighth straight win in the series. The loss eliminated the Black Knights' shot at playing in their first bowl game since 1996.
The Mids (9-4) already have a postseason date against Missouri in the Texas Bowl on Dec. 31.
Ricky Dobbs ran for a score to set an NCAA single-season record for rushing touchdowns by a quarterback with 24, and threw for a TD to help Navy improve to 54-49-7 overall against Army for its biggest lead in a series that began in 1890.
Navy won the Commander-In-Chief's Trophy, awarded to the team with the best record in games between the three service academies, for a school-record seventh straight year.
Army (5-7) would have played in the EagleBank Bowl with a win. That matchup is now Temple vs. UCLA at RFK Stadium in Washington on Dec. 29.
For the first time in a long while, there was more on the line in an Army-Navy game than bragging rights. Army blew its chance of marching into a late-December bowl with a series of turnovers and missed field goals.
COLLEGE FOOTBALL
Mark Stoops going to FSU
Tallahassee, Fla. — Florida State has its new defensive coordinator — Arizona's Mark Stoops.
A university official familiar with the agreement told The Associated Press on Saturday that Stoops has agreed to join new Florida State coach Jimbo Fisher in early January after both schools' bowl games.
Stoops, 42, is Arizona's defensive coordinator. He is the younger brother of Oklahoma coach Bob Stoops and Arizona coach Mike Stoops.
BOXING
Klitschko wins decision
Bern, Switzerland — Vitali Klitschko retained his WBC heavyweight title on Saturday night with a unanimous decision over American contender Kevin Johnson.
The 38-year-old Ukrainian kept Johnson against the ropes for much of the fight but landed few heavy shots to hurt the 30-year-old challenger. Johnson proved a durable opponent and did his best work with counterattacking straight left jabs.
Klitschko (39-2) was making his third defense of the belt he reclaimed in October last year, following a four-year break to recover from injuries. He opted to take the fight just 11 weeks after beating Cris Arreola, another unbeaten American who did not come out for the 11th round of their bout in Los Angeles.
Johnson (22-1-1) was the WBC's sixth-ranked contender, though few expected him to give the bigger Klitschko many problems. The champion is 6-foot-7 and weighed 247 pounds, 3 inches taller and a few pounds heavier than Johnson.
GOLF
Stricker, Kelly take lead
Naples, Fla. — Steve Stricker and Jerry Kelly fell out of the lead for most of the day before rebounding for the lead at the end of the Shark Shootout's second round. Stricker birdied No. 18 to finish a run of five birdies in six holes that got the team to 13-under 131 at Tiburon Golf Club at the Ritz-Carlton Golf Resort on Saturday.
Stricker's 5-foot birdie prevented a four-way tie. Kenny Perry and J.B. Holmes, Steve Flesch and Dustin Johnson, and Justin Leonard and Scott Verplank were all at 12 under.
Wie's charge falls short
Dubai, United Arab Emirates — Michelle Wie's late charge fell short at the Dubai Ladies Masters on Saturday, and In-Kyung Kim of South Korea claimed a three-shot victory at the season-ending tournament for her first European Tour title. Wie shot a 7-under 65, tied for the day's best round, but the 13th-ranked Kim responded to the pressure with a 4-under 68 that left her at 18-under 270.
Woods' wife buys home
Stockholm — Tiger Woods' wife bought a six-bedroom house on a small island near Stockholm that is reachable only by boat. Stenake Johansson, chairman of the Residential Association on Faglaro island, told the Associated Press on Saturday that Elin Nordegren became the owner on Dec. 1.
Johansson could not confirm the house's reported price of $2.2 million and said he didn't know whether Nordegren and Woods planned to move in.
BASEBALL
Diaz, Braves agree
Atlanta — Outfielder Matt Diaz has agreed to a $2.55 million, one-year contract with the Atlanta Braves, who let second baseman Kelly Johnson go free by failing to offer a 2010 contract. Diaz hit .313 with 13 homers and 58 RBIs last season, when he made $1,237,500. Johnson batted .224 eight homers and 29 RBIs, losing his starting job to Martin Prado. He can sign with any team starting today.
Lyon, Astros finalize deal
Houston — Reliever Brandon Lyon and the Houston Astros completed a $15 million, three-year contract on Saturday. Lyon was 6-5 with a 2.86 earned-run average in 65 appearances for the Detroit Tigers last season after spending 2005-08 with the Arizona Diamondbacks.
Wang becomes free agent
New York — Chien-Ming Wang became a free agent when the New York Yankees failed to offer a contract for next season by Saturday night's deadline. The 29-year-old right-hander was a 19-game winner in 2006 and 2007.
Copyright 2018 The Associated Press. All rights reserved. This material may not be published, broadcast, rewritten or redistributed. We strive to uphold our values for every story published.