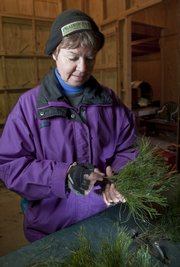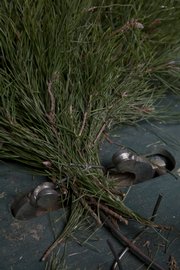 The first time I bought a wreath made from locally grown Scotch pine branches, I made a common mistake: I hung the wreath between the storm door and exterior door of my house. The green pine branches dried and began to brown within a few weeks because of the warmth created from sunlight shining through the glass storm door.
"Wreaths and swags need to be placed properly, particularly on the north or east sides of the house where they have a shorter exposure to the sun and definitely not between doors," says Kathy Heeb of Prairie Elf Christmas Trees.
The cool air of the outdoors also lengthens the life of natural evergreen decorations. Fresh-cut evergreen branches kept in warm homes and offices with dry air may desiccate in as little as a week, making them a potential fire hazard. (Unless kept with cut ends in water like a Christmas tree.)
Heeb uses a sealant to extend the life of wreaths and swags she makes from tree branches from her farm. Sealant is especially important because she needs to make most of the decorations prior to the holiday season and wants them to look good for a long period of time.
While some experts recommend misting fresh-cut decorations with water to preserve the life, Heeb says that extra work may not be necessary if a sealant is used. Much like misting houseplants, I suspect that misting evergreen boughs does very little to offset the dry air present in many of our homes anyway. If you are unsure about whether a sealant has been used, ask the wreath maker.
On Heeb's farm, wreaths and swags are made from Scotch and white pine branches, with sprigs of native red cedar. Since she also sells some pre-cut Fraser firs, she cuts a few fir branches to mix in to decorations with the pine and cedar. After wiring the branches to a frame, they are dipped in sealant solution and allowed to dry before she adds pine cones, German statice, ribbon and faux berries.
Swags are made simply by wiring several evergreen branches together and are also decorated with natural and purchased materials.
To make your own holiday decorations:
• Cut evergreen branches are available for a nominal price or in some cases, a donation, at local Christmas tree farms, organization-run Christmas tree lots, and many other places where Christmas trees are sold. Look for branches that are pliable and still have a bit of fragrance.
• Purchase a wreath frame or make one by bending a wire clothes hanger. Two hangers used together will add strength to the frame.
• Florists' wire (available at craft stores) or other fine-gauge wire works best to attach branches to frames or each other.
• Clip pretty berries and foliage from your landscape or garden to add the arrangement. A wide variety of artificial items are also available for purchase at craft stores. These items can be wired or glued to evergreen branches.
Greenery can also be functional after the holidays.
"Some of my customers have told me that their wreaths have lasted 'til February, Heeb added. "They've redecorated them for Valentine's Day."
When the greenery dries, cut it up to use as mulch in the landscape or garden or add it to the compost pile.
— Jennifer Smith is the Douglas County Extension Agent-Horticulture for K-State Research and Extension and can be reached at 843-7058.
Copyright 2018 The Lawrence Journal-World. All rights reserved. This material may not be published, broadcast, rewritten or redistributed. We strive to uphold our values for every story published.