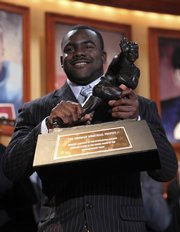 New York — Mark Ingram dabbed his eyes, took a deep breath and tried to steady himself. All set, he accepted the Heisman that completes Alabama's trophy case.
The tough-running tailback turned tearful after winning the Heisman Trophy on Saturday night in the closest vote in the award's 75-year history. Next, he'll try to lead the most storied program in the South to a national championship.
Ingram finished 28 points ahead of Stanford running back Toby Gerhart.
The sturdy, 212-pound Ingram took a moment to get composed before starting his speech. Dressed in a dark suit with blue pinstripes, his voice wavered throughout.
"I'm a little overwhelmed right now," he said. "I'm just so excited to bring Alabama their first Heisman winner."
Ingram received 227 first-place votes and 1,304 points. Gerhart got 222 first-place votes and 1,276 points, while Texas quarterback Colt McCoy, last season's runner-up, received 203 and 1,145.
Ingram said later he was feeling relaxed — right up until the winner was announced.
"When he started reading that letter, my heart started beating and I could feel it beating real fast," he said. "When he called my name I was excited, then I saw my mom crying and it kind of made me break down, too."
His father, a former Super Bowl star, was a few miles away. Incarcerated on bank fraud and money-laundering charges, he watched his son's big win on a prison television.
Nebraska defensive tackle Ndamukong Suh was fourth and Florida quarterback Tim Tebow, who won the Heisman two years ago, was fifth.
The previous closest vote in Heisman history came in 1985, when Auburn's Bo Jackson beat Iowa quarterback Chuck Long by 45 points.
Ingram won four of the six regions. Gerhart took the far west, and Suh won the southwest.
"I appreciate the way he plays," said Gerhart, who ran for 1,736 yards and scored 26 touchdowns. "The passion for the game. I'm a physical guy, he's a physical guy. I feel we're similar in a lot of ways. I'm proud of him and honored to be included with him."
Ingram has been the backbone of Alabama's offense, rushing for a school-record 1,542 yards, gaining 6.2 yards per carry and scoring 18 touchdowns.
And in his final chance to make a case for the Heisman, facing Florida's then-top-ranked defense, Ingram ran for 113 yards and scored three touchdowns to punctuate his season.
The win sent the top-ranked Crimson Tide to the BCS national title game against McCoy and No. 2 Texas on Jan. 7 at the Rose Bowl.
"This is a great, special moment for me but at the same time you've got to move forward," Ingram said. "We still have a national championship game to play in."
He is the third consecutive sophomore to win the Heisman since Tebow became the first in 2007 and he will be the sixth winner in the last seven years to go on to play in the BCS national championship game.
Few college football teams can match Alabama's history of success. The Crimson Tide dominated the Southeastern Conference for decades. With six AP national championships, only Notre Dame and Oklahoma have won more.
Copyright 2018 The Associated Press. All rights reserved. This material may not be published, broadcast, rewritten or redistributed. We strive to uphold our values for every story published.