On the street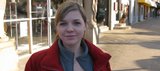 Kind of. I've lived here all my life and it's always been bad.
A proposal for a complete ban on panhandling in downtown is receiving negative feedback from the city's legal team over concerns that such regulations wouldn't pass Constitutional muster.
City Commissioner Aron Cromwell, the chief proponent of a complete downtown panhandling ban, said he likely won't pursue the idea further.
"It looks like a total ban is not going to work," Cromwell said.
But he said the city still needs to do something to address concerns that panhandlers are discouraging shoppers and visitors from going downtown.
City staff members are presenting an option that would require panhandlers who want to verbally solicit donations to receive a city license, and that also would ban "active" panhandling at night.
Under the proposal, people still would be able to hold a sign that asks for donations, and musicians still would be able to play music on the sidewalks without receiving a city license. But if people want to verbally ask for a donation or want to actively wave the sign or do something else to draw attention to themselves, they would be required to receive a license. Charities would be required to get a license to solicit downtown, if they do so verbally. If they don't do so verbally, they generally would not be required to have a license.
City attorneys thinkthe license should be free to not run afoul of the First Amendment. But the city would ask for a complete name, would take a picture, and would also ask for an address or place where the person could frequently be found.
Jane Pennington, director of Downtown Lawrence Inc., said the recommendation was not all that the downtown group had hoped for. But she said the licensing process may deter some.
"I think it could make a dent," Pennington said. "I just don't think very many are going to go to the trouble to get a license, even if it is free."
Cromwell, though, said he's not sure the licensing system would be worth the city's effort. Instead, he said the city needs to focus on enforcing existing laws. The city already has a law that makes it illegal to aggressively panhandle, which is defined as repeatedly asking someone for a donation or touching the person. Laws also exist that make it illegal, in some cases, to sit on the city's sidewalks or to solicit donations near an ATM or a bus stop.
Since late this fall, the city has added police officers who are doing frequent foot patrols in the downtown area. Cromwell said he thoughthaving officers nearby to respond to concerns would help the problem significantly.
"The reality is that we have a few people who caused a lot of mischief this summer, and we need that kind of stuff reported right away," Cromwell said.
Pennington said she still is concerned that even if panhandlers aren't being aggressive that they still could harm downtown business.
"I have a feeling that people still won't want to bring their kids down here and walk on the sidewalks if every bench and planter has somebody with a sign on it," Pennington said.
But Scott Miller, an attorney for the city, said banning such passive panhandling activities likely would draw a legal challenge.
"Almost none of the cities that we surveyed regulated passive panhandling in any way, and none of them instituted anything close to a complete ban," Miller said. "There is a concern that type of regulation is much less likely to withstand First Amendment scrutiny."
Commissioners are scheduled to discuss the issue — but not vote on the matter — at their 6:35 p.m. meeting Tuesday at City Hall, Sixth and Massachusetts streets.
Copyright 2018 The Lawrence Journal-World. All rights reserved. This material may not be published, broadcast, rewritten or redistributed. We strive to uphold our values for every story published.