Photo Gallery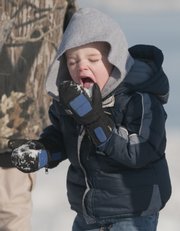 Third turnpike bridge demolition
Tracking the boom
People around the area have reported hearing today's explosion from considerable distances from the bridge. Did you? Let us know where you were if so, and we'll map the responses to see how far the sound traveled.
Josie Speirer, 11, had waited for two hours Friday morning in the snow at Burcham Park.
She and her brother, Orion, 9, spent their time making snow angels and throwing snowballs at their dad, Rodney Speirer, as they watched for the Kansas Turnpike Authority to blast the eastbound span of the old Kansas River bridge at the northern edge of Lawrence.
After a 50-minute delay, the Speirers weren't disappointed as they saw the 50-year-old bridge come down in seconds with a crash — and partly a splash.
"It was just so much bigger than I thought it would be," Josie said. "It was awesome. I want to see it again."
It was the turnpike authority's third and biggest blast in the large-scale demolition project to replace the bridges over the river and remake the turnpike near Lawrence.
"The main thing is to get it down on the ground where we wanted it, and that happened," said Rex Fleming, the turnpike's project engineer.
Close to the scheduled blast time of 10 a.m. Friday, crews had to review some of the connections before they finally set up rolling road blocks for traffic and set off the successful blast at 10:50 a.m.
But in the end, seeing the puffs of black smoke, the bridge coming down and hearing the loud boom made it worth it, said Josie, who missed a morning of class at Cordley School to see the spectacle in person.
"I wanted the kids to experience it. It's kind of a once-in-a-lifetime thing to see a real-live explosion and demolition like this," her dad, Rodney, said.
Part of the bridge landed in the water. It was all part of the plan, and crews will work with cranes to remove it, Fleming said.
The construction crew hit one more milestone along the major project with the blast. They are now preparing to do the same thing to the westbound span of the old bridge.
Fleming said they haven't set a date for that yet because it depends on construction progress and the weather. Crews are looking at either late next week or early in the following week.
Copyright 2018 The Lawrence Journal-World. All rights reserved. This material may not be published, broadcast, rewritten or redistributed. We strive to uphold our values for every story published.