U.S. Sen. Pat Roberts and U.S. Rep. Jerry Moran, both Kansas Republicans, strongly oppose Senate Majority Leader Harry Reid's idea to expand Medicare as part of health care reform.
Under the proposal, Medicare — currently for those age 65 and up — would be offered to people who are at least 55 and wished to purchase coverage.
Roberts and Moran both issued press releases today — Dec. 10 — regarding the issue.
Sen. Pat Roberts
"I cannot believe anyone is seriously considering expanding Medicare to tens of millions of people aged 55 and over as a compromise to the government-run or so-called public option," Roberts said.
He is a member of the Senate Committee on Finance, and the Senate Committee on Health, Education, Labor and Pensions. He is co-chairman of the Senate Rural Health Caucus.
In the release, he said: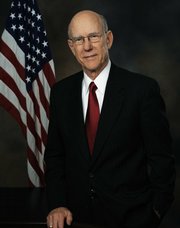 "Government-run insurance plans currently control nearly half of the market," Roberts said. "With the government's power, they have the ability to set payment levels for doctors and hospitals and home health agencies and even hospices and all other health care providers, not based on the actual costs that those providers incur when treating patients, but instead based on whatever arbitrary spending target the budget crunching bean counters determine the government can afford.
"Medicare has been on an ever-shrinking path towards bankruptcy for years. The latest reports from the Medicare trustees say the Hospital Insurance trust fund will go broke within the next eight years. The program has $38 trillion in unfunded liabilities.
"And how has the government responded? By severely underpaying Medicare providers and denying Medicare patients' claims.
"Medicare only pays doctors around 80 percent of their costs and hospitals even lower.
"Privately-insured Americans pay a 'hidden tax' of nearly $90 billion per year to make up for these underpayments, but even that hasn't been enough to keep some providers in business and able to afford to accept Medicare patients."
U.S. Rep. Jerry Moran
"I am concerned that the Majority Leader's 11th-hour so-called 'compromise' would be a dramatic step toward a single-payer, one-size-fits-all, government-run health care system for our country," Moran said. "I am strongly opposed to this irresponsible idea.
Moran is chairman of the House Rural Health Care Coalition and co-founder of the Congressional Community Pharmacy Coalition.
He went on to say in the press release:
"Although the details of this back room deal are still up in the air, we do know the plan includes an option for uninsured individuals between the ages of 55 and 64 to purchase health coverage under Medicare. Folks who could not afford this 'buy-in' would be given government subsidies to do so.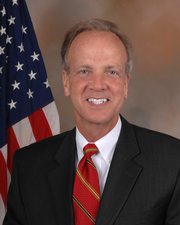 "This idea fails to consider the significant consequences that such a dramatic expansion of Medicare will have on our health care system.
"Under this idea, near seniors, especially those with serious health problems, will flock to Medicare for health coverage. There is no doubt that we need to find ways for these individuals to have access to affordable, quality health coverage and for them to keep their current coverage if they wish.
"But, expanding Medicare, a program that is expected to go bankrupt in 2017, in this manner will explode premium costs for all beneficiaries and force the government to turn to the taxpayer for help. Once near seniors enter this system, they are not likely to be pushed out and the pressure will increase to cover more people on the government rolls. This idea could be a giant step toward single-payer socialized health care in our country.
"Additionally, it is presumed that this expanded program would pay hospitals, doctors and nurses Medicare rates, which are already drastically diminished. This could cause Kansas hospitals to close their doors and doctors to either stop seeing Kansas seniors or close their practices altogether."
Copyright 2018 The Lawrence Journal-World. All rights reserved. This material may not be published, broadcast, rewritten or redistributed. We strive to uphold our values for every story published.