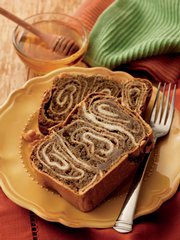 It's rare that a food's name is as difficult to pronounce as that food is to enjoy.
But every time someone new visits Strawberry Hill Povitica Company in Lenexa, Dennis O'Leary gets a reminder of his sweet bread's special status. And sometimes a craving for pizza, too.
"We get people that butcher it every day. And, you know, when someone says it incorrectly, I won't correct them unless they want to be corrected," says O'Leary, the owner of the country's premier povitica producer. "But it's povitica. And then they say, 'What?' and then you have to spell it. When I say povitica to people, they say, 'pizza?' and no, 'povitica' - it's very confusing to a lot of people."
Yes, that's po-va-teets-sa.
It's a holiday staple in Eastern Europe and, in some parts of the United States - including Kansas City's Strawberry Hill neighborhood - a tradition more popular than eggnog. And it's easy to see why: A sweet, dense bread, it's so packed with nuts and spices that each of Strawberry Hill's loaves weigh in at a hefty 2.5 pounds.
Families from Croatia to Serbia to Hungary to Poland make the bread, as do many Americans whose families brought the "swirled bread" to America in the 1800s and 1900s.
An introduction
If you haven't heard of it, let alone the proper way to pronounce it, you're missing out on one tasty dessert, says Clay Belcher. He should know, because until he received a loaf as a gift a few Christmases ago, he had no idea it existed. From the first bite, he decided to serve it year-round in his coffee shop at Signs of Life.
"We opened in like March, and the Christmas before, somebody had given me a loaf as a gift. And I'd never had it before but I just loved it and thought, 'Boy, if we open up this coffee shop, we've got to offer this stuff,'" says Belcher, who sells it by the slice and the loaf. "I'd never heard of it before someone gave me a loaf, but people come in all the time, 'Oh my grandmother used to make that or my mom makes that every year.'"
Not that making it is any easy task. The bread's distinctive inner swirls are the product of lots of work. Each loaf consists of dough and filling, made separately and then swirled together to form a free-standing roll or a mass wedged into a loaf pan.
O'Leary explains the differences of roll verses loaf as an Americanization of the bread, or at least that's the story his father, Harley, the company's founder, had shared.
"The story that my dad used to tell everybody was his mom's family, when they were in the old country, used to make povitica, and it was more similar to a nut roll. You know, they had bigger ovens and they could fit them into those bigger ovens," O'Leary says. "And when they came to the United States, they couldn't figure out how to fit them in the ovens. So what they did was they took that roll and twisted it into an 'S' shape and baked it in a pan, and that way they could fit three or four of them in the oven and bake them that way. I think that's really how povitica has been Americanized."
Past Event
When: Saturday, December 12, 2009, 8 a.m. to 3 p.m.
Where: Columbus Hall, 2206 E. 23rd St., Lawrence
Cost: Free
-->
-->
Labor intensive
No matter how it's baked, it's a long process, says Megan Paisley. Paisley, who runs Crane River Farm out of Stilwell, bakes a Polish version of the bread for the Lawrence Farmers' Market. For this year's Holiday Farmers' Market, which runs from 8 a.m. to 3 p.m. Saturday, Paisley is planning on spending a swirling and baking 24 to 36 loaves - something that will take her eight or so hours.
"The dough has to rise three times and then the filling - actually we've got to grind the pecans, they're not just chopped, we've got to grind them and then it gets cooked on the stove because there's eggs and things in it with milk and it has to be actually cooked and boiled," Paisley says. "And then that's got to cool while I roll out the dough and then spread the filling and then roll it up."
It's not cheap, either. Paisley says she's not making a profit on the bread, though she has consistently sold out of it.
"I don't really make any money on it whatsoever because there's so many pecans in it. Just in mine, $3.50 worth of pecans now go in each loaf," she says. "Then add in all the other ingredients and my time, so ... $6 a loaf, I'm not making much."
But she says it's worth it to introduce customers to something she found amazing the first time she tried it - even if it was years before she produced it herself.
"I kind of thought that everybody had heard of povitica bread ... so it was really fun to talk about it and explain it to people," she says. "And once I explained to them that it was a kind of a sweet bread that is rolled up like a cinnamon roll and then I roll it like a snail and it's got a nut filling with a little bit of cinnamon and cocoa to it, they were excited."
So excited that O'Leary jokes that this time of year, "We could probably sell it in a hardware store if we wanted to." No need though, as Belcher says he usually sells hundreds of loaves between Thanksgiving and Christmas. Not bad for a delicacy that doesn't exactly roll off the tongue.
"There's not too many people who get it right on their first try," O'Leary says. "I always joke I wish it was called 'nut bread' because it would be so easy to tell people to go to nutbread.com."
Copyright 2018 The Lawrence Journal-World. All rights reserved. This material may not be published, broadcast, rewritten or redistributed. We strive to uphold our values for every story published.