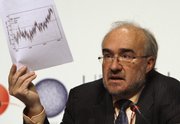 Copenhagen — A leaked Danish document at the U.N. climate conference provoked angry criticism Tuesday from developing countries and activists who feared it would shift more of the burden to curb greenhouse gases on poorer countries.
Negotiators, meanwhile, displayed charts of data that said the current decade is on track to be the hottest on record for planet Earth.
At the heart of Tuesday's clash — stemming from draft texts attributed to Denmark and China — is the determination by the more impoverished states to bear a lesser burden than wealthy, more industrialized countries in the effort to slow global warming.
Earlier Tuesday, the U.N.'s weather agency boosted the sense of urgency surrounding the conference with data showing this decade is on track to be the hottest since records began in 1850, with 2009 the fifth-warmest year ever. The second warmest decade was the 1990s.
Only the United States and Canada experienced cooler conditions than average, the World Meteorological Organization said, though Alaska had the second-warmest July on record. In central Africa and southern Asia, this will probably be the warmest year, but overall, 2009 will "be about the fifth-warmest year on record," said Michel Jarraud, secretary-general of the Swiss-based agency.
The last few decades are the warmest period in at least 400 years and probably 1,000 years, based on evidence from tree rings, retreating glaciers and other scientific methods to track climate before record-keeping, according to a 2006 report by the U.S. National Academy of Sciences.
Although temperatures have fluctuated, the causes were natural. Now, they are being driven up by human activity; modern civilization has many more coastal cities and needs to feed far more people, and scientists believe humans can head off such dangerous warming.
Without a global deal stopping climate change, the planet's average temperatures will rise by more than 3.6 degrees F "well before the end of the century," Jarraud said.
"What we want is to provide the best possible data for negotiators," said Jarraud, who called the WMO data evidence "this is indeed globally the warmest period for more than 2,000 years."
Copyright 2018 The Associated Press. All rights reserved. This material may not be published, broadcast, rewritten or redistributed. We strive to uphold our values for every story published.