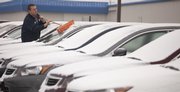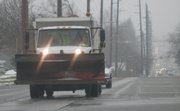 Winter weather photos
Got a winter weather photo you'd like to share? Submit it here.
On the street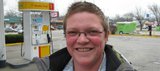 If I have to shovel it, it's too much.
9:34 p.m. The latest update from the National Weather Service continues the winter weather advisory until 6 a.m., but predicts just less than 1 inch of additional accumulation by midnight.
Winds are expected to be out of the northwest at 20-30 mph, gusting to 40 mph, dropping wind chills to -5 to -10 degrees.
With that cold weather in mind, and given much higher snow totals north of Lawrence, school districts Tuesday night were already canceling classes.
9:05 p.m. Bundle up. That's the advice from 6News Meteorologist Matt Elwell. The storm system that plagued northeast Kansas since late Monday will be completely out of the area by late Wednesday morning, but that doesn't mean we're out of the woods from the icy weather. "Temperatures will be falling throughout the day, and you couple that with a strong northwest wind, and we'll have wind chills dipping below zero at times," Elwell said. "It's going to be brutal, at least through Thursday." Temperatures during the day Wednesday and Thursday aren't expected above 25 degrees. The mercury is not expected above freezing until Friday, Elwell said. By the weekend, the forecast calls for mostly sunny skies and temperatures in the mid 30s.
8:00 p.m. Snow continues to fall downtown and around the area, leading to wet and messy roadways. The concern overnight will be the bitterly cold temperatures and a high wind that could make visibility a problem for drivers.
3:30 p.m. 6News Chief Meteorologist Matt Elwell said Douglas County and Lawrence is looking at probably 3 more inches of snow tonight, bringing the total for the storm to about 4 inches.
Elwell said to look for the rain to turn over to all snow in Lawrence within the next couple of hours. He said western areas of Douglas County were already seeing mostly snow.
2:50 p.m. The National Weather Service has ended the winter storm warning for Douglas County, as well as Osage and Lyon counties.
The area remains under a winter weather advisory. Ice and sleet, as well as some snow, are still expected this afternoon, but further accumulation is expected to be limited to 1-3 inches.
Areas just north and west, including Leavenworth, Jefferson and Shawnee counties remain under a winter storm warning and can expect 4-9 inches of snow.
1:01 p.m. The National Weather Service has downgraded its projection to be more in line with what 6News Chief Meteorologist Matt Elwell has been predicting. About 4-9 inches of snow are predicted in the area immediately south of Oskaloosa.
At this time, most precipitation is falling as a cold rain, but precipitation is expected to turn to snow later into the afternoon and evening, with winds picking up reducing visibility.
The winter storm warning remains in effect.
8:13 a.m. 6News Chief Meteorologist Matt Elwell is predicting total accumulation of 2-5 inches today, with snow resuming later this morning, and being followed by waves of heavier snow, before tapering off in the evening.
7:45 a.m. The National Weather Service has upped the snow forecast for the area to a total of 7-12 inches along a line from Herington to Lawrence, with localized total as high as 15 inches.
6News Chief Meteorologist Matt Elwell, however, is still advising we'll likely see lower amounts. So far, about 1/2 inch has accumulated on roads, about an inch on grassy surfaces, he said.
Roads in the area are slick, though most city streets are free of snow. According to the Kansas Department of Transportation, the Kansas Turnpike, U.S. Highway 40 and the South Lawrence Trafficway are completely snowpacked.
U.S. 59 and Kansas Highway 10 east of town are partly snowpacked.
Roads should be fine for the morning commute, but plan some extra time.
Several school districts have also announced closings.
6:34 a.m.
The snow has tapered off for the time being but be careful driving as the roads are slick. Veritas Christian School as well as USD 341, 342 and 343 have canceled Tuesday classes.
4:07 a.m.
Precipitation measurements from overnight show about 3/4 to one inch of snow has fallen in Lawrence. The warm air that looked to move through the area doesn't seem to be following quite the same path. Residents can expect to get a little more snow and a little less rain and winter mix. Total estimated snowfall for the day should be in the range of two to five inches.
City crews are distributing sand on roads already this morning, but road conditions are still less than ideal. The Kansas Department of Transportation shows sections of K10 and K32, along with sections of U.S. highways 24, 40, 56 and 59 have patches of packed snow and ice.
12:00 a.m.
Douglas County officially entered the winter storm warning forecast by the National Weather Service Monday night. The storm warning calls for as much as seven inches of snow to accumulate during the day today. We'll keep up with hazardous driving conditions, but you can check them here too.
6News Chief Meteorologist Matt Elwell said Lawrence residents could expect one or two inches to fall overnight. The snow should taper off by Tuesday afternoon thanks to some 'warmer' air moving through the system. The air will be warm enough for the precipitation to change to either rain or a winter mix.
The temperatures Tuesday are expected to reach a high near 33 degrees, but the wind coming as a result of the fast-moving weather system may make it feel colder. Snow is expected to fall again as Tuesday evening approaches.
Copyright 2018 The Lawrence Journal-World. All rights reserved. This material may not be published, broadcast, rewritten or redistributed. We strive to uphold our values for every story published.